John Travolta Looks Unrecognizable in New Horror Movie 'The Fanatic'
The trailer of "The Fanatic" is finally out, and fans got a glimpse at the unrecognizable—and creepy—look that John Travolta is sporting to bring to life an obsessive fan with kidnapping tendencies, Moose.
John Travolta's haircut in the new film "The Fanatic" might be the less unsettling thing about his overall appearance in the movie, directed by Limp Bizkit's former frontman and indie director Fred Durst.
In the first look at the movie, Travolta is seen in the flesh of Moose, an obsessive middle-aged cinephile that has a deep devotion for his favorite action movie star, Hunter Dunbar, portrayed by Devon Sewa.
Moose wears graphic shirts with long shorts, sneakers and white socks. He has a shy demeanor but gets aggressive when, after looking for Dunbar at a club, a security guard turns him away.
His walk is slow and kind of erratic, and he seems to be very twitchy even when he's pouring combustible all over the garden at what looks like Dunbar's house.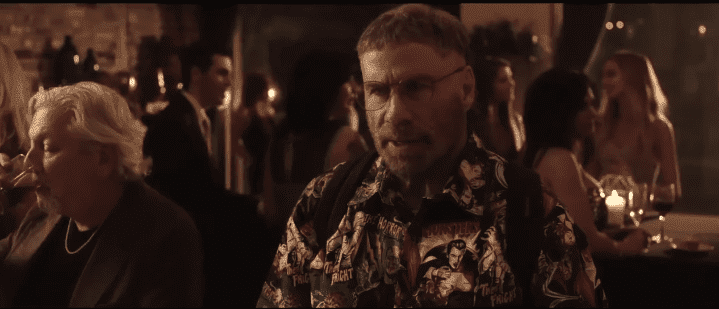 Travolta's performance has fans looking forward to the fan-worshipping-idol-gone-wrong movie. It promises a lot of suspense and horror after Moose fails to get an autograph from his favorite actor on the legal route, and decides to start stalking him after asking a paparazzi for help.
Moose's efforts go down south quickly after Dunbar finds him at his gate and asks him to never show up at his house again. However, as the trailer continues, Moose is seen inside the house, sitting in the living room beside a sleeping Dunbar, who later wakes up tied up in bed and screaming for his life.
"I just wanted an autograph," Moose cries out at some point.
There's also a shot of a voodoo doll, Dunbar gripping a knife ready to strike, and Moose walking around with a busted eye.
The film, which was initially titled "Moose," seems to have all the necessary elements to become a good thriller, but critics have not been kind to Fred Durst's past movies ("The Education of Charlie Banks," "The Longshots"), and Travolta's latest film, "Gotti," was a major failure at the box office.
Maybe their joint effort will pay off in the end.
The film also stars Ana Golja, Jacob Grodnik, James Paxton and Luis Da Silva Jr. It will hit theaters on August 30.