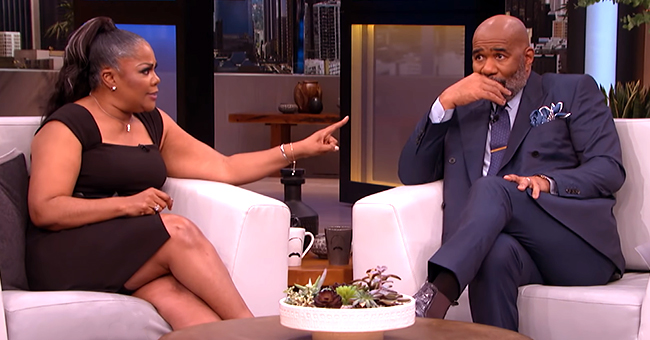 Youtube/Steve TV Show
Mo'Nique Reacts to Steve Harvey Losing Talk Show after On-Air Clash

It's been months since Mo'nique and Steve Harvey ended their friendship after an on-air clash and during one of her recent YouTube video episodes, she made sure to let everyone know just how she felt about Steve Harvey losing her TV shows.
The comedian once again spoke out about her ex-friend Harvey failing to talk to her personally over her shade against Hollywood heavyweights like Oprah Winfrey, Tyler Perry, and Lee Daniels.
On the Controversial Stand-Off
According to Mo'Nique, when she guested on "The Steve Harvey Show," she was sure about what he'd tell her "brother." However, she did not expect him to respond the way he did.
"When I went on 'The Steve Harvey Show,' I knew the conversation I was gonna have with my brother. I didn't know the conversation he was gonna have back with me."
In one part of their conversation, Harvey told Mo: "We black out here. We can't come out here and do it any way we want to... this is the money game. This ain't a black man's game, this ain't a white man's game, this is the money game!"
On A Person's Character
Mo'Nique begged to disagree, trying to stand firm in her integrity and character as a person. She questioned his statements on one of his interviews on "The D.L. Hughley Show," where Harvey revealed he edited their heated discussion to "protect her."
She then asks why he didn't air his statements about being "pissed" that "them white boys was supposed to call me" about ending his TV show.
"I've never met so many cowards and our black men in show business," she says. "I've never met so many black men that have no goddamn backbone, and that bothers me."
Similar Experiences, Different Outcomes
Mo'Nique's husband, Sidney Hicks, also says that both Mo'Nique and Steve Harvey have been burned by their decisions, but Mo'Nique kept her integrity intact.
While Steve was intelligent enough to form a partnership with IMG to have ownership over his show, his winnings ultimately didn't matter when the executives couldn't get a piece of it.
Likewise, he narrates how Mo'Nique boycotted Netflix and refused to promote her 2008 movie "Precious" over unequal pay allegations, which had her with fewer projects and opportunities.
Ultimately though, what differentiates Mo'Nique from Steve was that she was able to stand her ground and keep her dignity intact.
What Goes Around, Comes Around
As for what Mo'Nique really thinks about "Steve" getting cut out, she spoke about karma.
"The reaction is: are we not paying attention?" Mo says. "See, Steve, you said to the community 'to hell with integrity, get the bag.' So now you're saying, 'I have no integrity and I don't have the bag? And now I gotta face my family?' What you put out is what you get back."
Please fill in your e-mail so we can share with you our top stories!