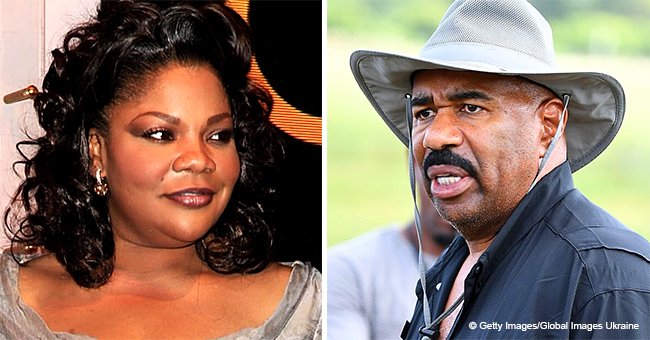 Mo'Nique slams 'sellout' Steve Harvey in videos after on-air argument about being 'blackballed'

Mo"Nique gives Steve Harvey a lesson on integrity through a series of videos she shared after their heated interview. She accuses him of being a "sellout" after he told her to put money over integrity during her interview on his show.
Things turned sour between Steve Harvey and Mo'Nique after they went head to head during her interview on "The Steve Harvey Show." In the aftermath of their heated argument, Mo'Nique released a series of videos slamming the talk show host for being a "sellout."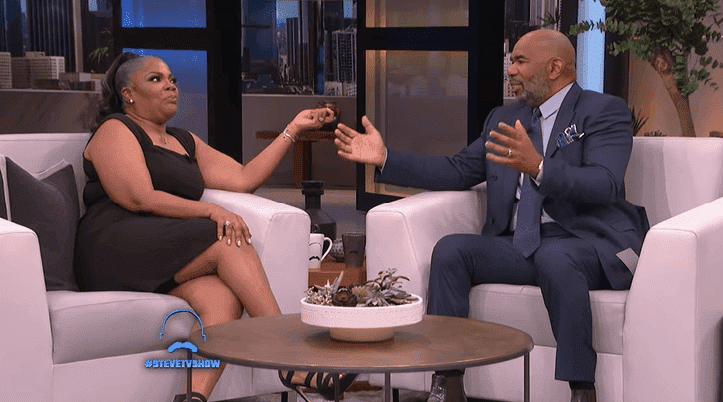 Steve Harvey and Mo'Nique during a heated discussion on "The Steve Harvey Show." | Source: YoutTube/Steve Harvey Show
THEIR HEATED ENCOUNTER
The comedians appeared to start on the right foot at the beginning of the interview when they exchanged pleasantries. But when Steve brought up the topic of the actress rumored to be "difficult" to work with, the mood of the interview shifted. Mo'Nique explained that the label started when she "said no to some very powerful people" like Oprah Winfrey, Tyler Perry, and Lee Daniels.
Those rumors spawned from Mo'Nique's previous admission that she'd been blackballed in the industry after she refused to campaign during her nomination for Best Supporting Actress in the 2010 Oscars. She was recognized for her work in the film, "Precious" where she was reportedly only paid $50,000 even if she deserved more.
She also launched a boycott of NetFlix after she discovered the streaming giant paid her $500,000 for a comedy special and paid Amy Schumer for another special for $13 million.
Mo'Nique told Steve that she was hurt after Oprah, Tyler, Lee, and even Steve appeared to support her in private but slammed her on air. Steve explained to her on the show that she just had "to deal with the repercussions of the truth" while insisting that the whole thing is a money game. However, Mo'Nique argued that it wasn't a money game but rather a game of integrity. And there was no turning back from that moment.
MO'NIQUE SLAMS STEVE
Following their heated interview, Mo'Nique launched a couple of videos on social media accusing Steve of being a "sellout."
In her first post, she shared a video of Muhammad Ali talking about prioritizing freedom over money.
"As of now, money means nothing to me, nor boxing, when it comes to the freedom of your people. So, everything I'm doing, if it means hitchhike tomorrow, if it means be raggedy, if it means looking for a job. I'll be happy because I can go to bed, my conscience is clear, and I didn't sell out or trade my people just because I can be rich in Hollywood with a yacht out here."
"But I wouldn't want that damned yacht if I couldn't go back over in the black neighborhood and protest a black woman being raped. The hell with your yacht; the hell with the championship."
She attached the heading ""Yall think Steve Harvey need to hear this" over the clip and added the caption,
"I JUST HAD TO REPOST THIS. THIS IS FOR ANYBODY PUTTING MONEY FIRST AND NOT THE LOVE OF YOUR PEOPLE. I LOVE US FOR REAL!!!!!!"
Her second video featured snippets from her interview with Steve and scenes from "Roots" where the character Fiddler explains why he sees himself as a slave to Kunta Kinte. She attached the following text.
"Selling out. A common idiomatic pejorative expression for the compromising of a person's integrity, morality, authenticity, or principles in exchange for personal gain, such as money. In terms of music or art, selling out is associated with attempts to tailor material to a mainstream or commercial audience."
She wrote in the post's caption,
"THIS GAVE ME CHILLS! WHAT HAS CHANGED!!! Y'all I LOVE US 4 REAL!!! WE DESERVE TO LOVE US BETTER!"
Mo'Nique wasn't alone in thinking Steve's views were wrong. He was labeled a "coward" on social media after fans got wind of his argument with Mo'nique.
STEVE TRIES TO MAKE AMENDS
Following their heated exchange, Steve offered to help Mo'Nique fix her problems with Oprah, Tyler. and Lee but asked her to apologize for the things she said against them in the past. It's unclear where their relationship stands from here, though sources revealed Steve doesn't see this as a fight but as siblings arguing over what's best for them.
Steve apologized to Mo'Nique for failing to call her before he made a previous remark against her on air about being blackballed. Mo'Nique seemed to appreciate the apology but many suspect it will take a while for her to forgive Steve with the pain of betrayal rehashed again.
Please fill in your e-mail so we can share with you our top stories!