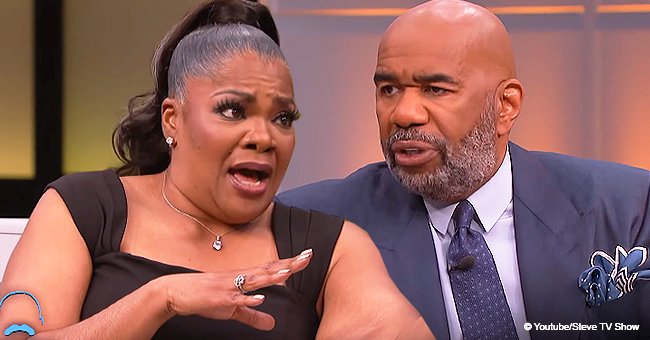 Steve Harvey gets slammed for his 'coward' behavior after getting into heated fight with Mo'Nique
Mo'Nique and Steve Harvey recently sat down to discuss the comedienne's claims of being "blackballed" from Hollywood after her Oscar's win in 2010. The discussion got heated quickly, and people on social media are slamming Harvey for suggesting that money is more important than integrity.
Mo'Nique and Steve Harvey have a lot of history together. They were good friends before Harvey publicly criticized Mo'Nique for "burning down too many bridges" after she claimed Hollywood had banned her.
At the time she blamed, in part, the producers of "Precious," the movie that earned her an Academy Award for Best Supporting Actress.
In a recent interview for Harvey's show, Steve brought up the subject, asking the 51-year-old comic why were she and her husband and manager, Sidney Hicks, labeled as 'difficult' in the industry.
"We got labeled as 'difficult' because I said one word -- and that was 'no,'" Mo'Nique said.
It is known that before her Oscar win, Mo'Nique refused to do more promotion rounds for the film "Precious," upsetting the directors, Lee Daniels, and producers Oprah and Tyler Perry with her attitude.
"Y'all knew that I was not wrong. Each one of you said to me, 'Mo'Nique, you're not wrong.' And when I heard you go on air and said, 'My sister burned too many bridges, and it's nothing I can do for her now,' Steve, do you know how hurt I was?" she told Harvey.
Steve, 62, replied, "You and I had this conversation. I thought you went about it wrong. I felt you had done yourself a disservice by the way you chose to go about it."
The stars continued to argue, delving a bit into Mo'Nique's brawl with Netflix from last year, which Harvey classified as "rich people problems." However, the "Almost Christmas" star mentioned that she was just fighting for equality, earning cheers from the audience as she stated,
"Inequality is devastating, and it's extreme. And when people said, 'Mo'Nique do you think calling a boycott was extreme?' You damn right. But isn't inequality extreme?"
Harvey continued to disagree with Mo'Nique. For him, she put her family at risk with the way she handled things because her attitude affected her career opportunities.
"When you tell the truth, you have to deal with the repercussions of the truth," Harvey said.
"We black out here. We can't come out here and do it any way we want to. Your husband can't be the Sidney [Hicks] that he really is out here [...] This is the money game. This ain't a black man's game, this ain't a white man's game. This is the money game!"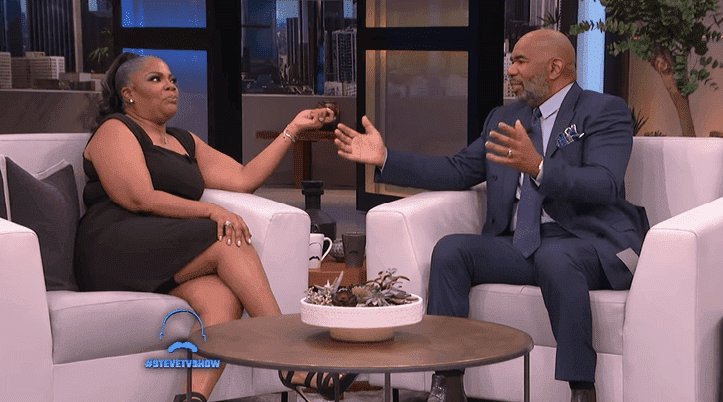 Mo'Nique and Steve Harvey had an intense conversation on the show. | Soure: YouTube/Steve TV Show
Mo'Nique then fired back stating that there are more important things than money in place, like integrity.
"Before the money game, it's called the integrity game," she said. "And we've lost the integrity worrying about the money."
Harvey replied:
"If I crumble, my children crumble, my grandchildren crumble. I cannot for the sake of my integrity, stand up here and let everybody that's counting on me, crumble so that I can make a statement. There are ways to win the war in a different way."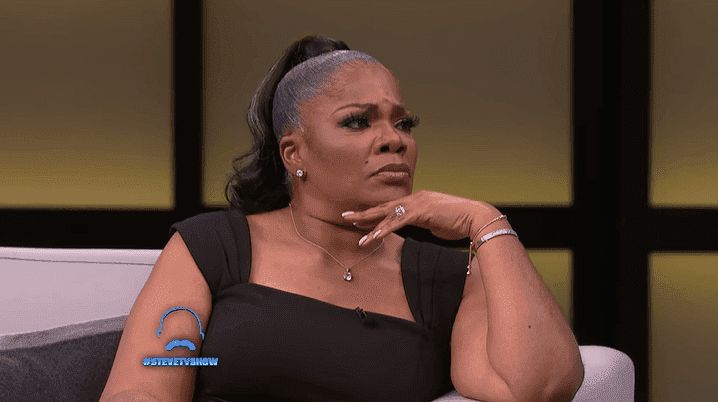 Mo'Nique defended her position, stating that it was all about integrity. | Source: YouTube/Steve TV Show
The TV host's words put him under fire on social media, as people believe he's on the wrong for insinuating Mo'Nique should have kept quiet to secure a career.
"Sister, Sister" actress Jackee Harry, slammed Steve on Twitter, saying:
"Clearly, Steve Harvey is not a life coach. The value one places on their integrity is the exact cost it takes to be fake."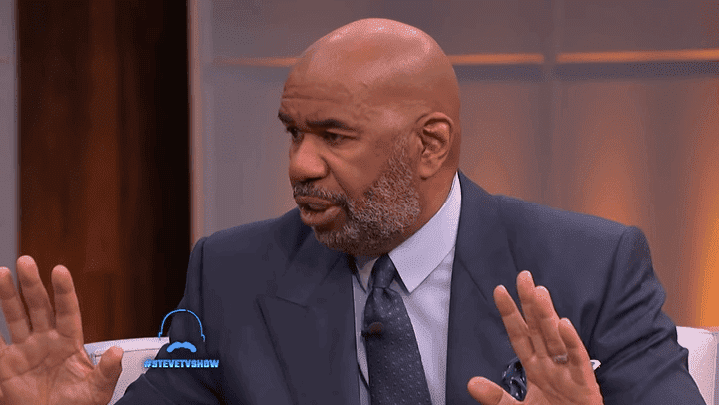 Steve harvey has caught fire on social media for his comments. | Source: YouTube/Steve TV Show
And another user added,
"Steve Harvey is a coward. I'm disgusted. Mo'Nique sat up there and championed integrity, and he argued integrity for money, and people applauded. Y'all go give Mo'Nique your love."
The pair ended the interview in good terms, with Harvey assuring Mo'Nique he just wants to see her thrive and show off her talent to the world. He also promised to try and arrange a conversation between Mo'Nique and Oprah, Tyler Perry and Lee Daniels.
"What we need to do to [is] move forward and fix this" Harvey stated. "These people owe you an apology. You owe those people an apology. Then we could move forward."
Meanwhile, Mo'Nique is currently in the middle of her Las Vegas residency at the SLS Hotel and Casino. She's the first black female comedian to do so.
Please fill in your e-mail so we can share with you our top stories!