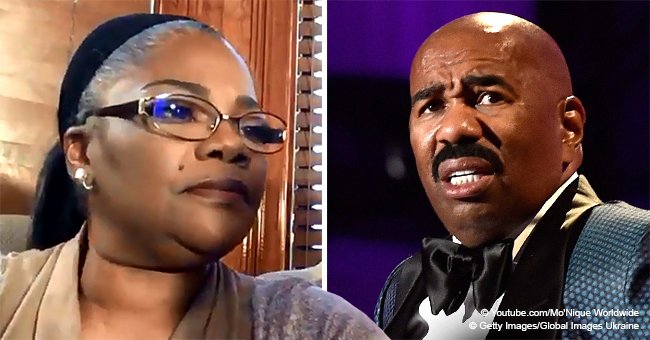 Mo'Nique finally breaks silence about the rumors she allegedly threatened to slap Steve Harvey
After rumors of a feud between longtime friends Mo'Nique and Steve Harvey, the comedian broke her silence about how she threatened to slap Steve Harvey.
Going on a YouTube live session, she tackled the topic "What do you do when the rumors are about you?" Just last week, Mo'Nique reportedly almost got into a fistfight with her friend of 25 years, Steve Harvey. The newest Las Vegas headliner explained what really happened on an episode of "Mo'Nique and Sidney's Open Relationship."
According to the performer, she and Harvey had a "very real and honest conversation" that most likely took some people "off guard." However, what they were really seeing, according to Mo'Nique, was a "brother and sister really talking."
It was after rumors were started of the two friends began speaking about Whoopi Goldberg as "the help," which turned so ugly that she threatened to hit Steve in the face. According to an insider,
"She threatened to hit Steve in the face. He told her [if] she hit him, her husband would have to come out and square off."
However, last Wednesday, Mo'Nique made it clear that the interaction was not as the report stated, and that the clash was filmed.
"My brother got to talkin' up on me, I got to talkin' up on him back. He said, 'Mo, I ain't gon' sit here and argue with you.' I said, 'We not arguing, we are brother and sister talking and Mommy and Daddy just happen not to be here and you keep talkin'."
She noted that she always playfully punches, kicks, or hits Steve, but only because their relationship is that close that they can do that to one another. Mo'Nique added that she did not tell him that she was going to slap him, but instead, punch him in the mouth.
"And I did not tell that man I was going to slap him. I said, 'I'm going to punch you in your mouth!' I ain't no slap [expletive], I'm a punch! That is how me and Steve Harvey has always gotten down. Always."
With Mo'Nique doing a residency at the SLS Hotel in Las Vegas, it's quite important for her to slam rumors such as these to avoid her fans boycotting her shows and the like. With peace and clarity on her side, she can continue to take on the world as she always has.
Please fill in your e-mail so we can share with you our top stories!