Mo'Nique flaunts slimmed-down figure in shimmery dress, shows off her curly afro in new pic
Mo'Nique looks amazing in recent pics shared to her Instagram, as she flaunts her slimmer figure in a shimmery dress in the middle of her Las Vegas residency at the SLS Hotel.
Mo'Nique is living her best life, and she loves to share it with fans on Instagram. The Academy Award winner lost over 80 pounds in the past years and has been documenting her weight loss journey on social media.
Now, she's looking more confident than ever, and her recent pics are a vivid example of that.
In the pics, Mo'Nique is rocking a shimmery short dress with a plunging neckline that hugs her curves in all the right places, as she shows off her toned legs while sitting on a sofa.
She completed the look with a curly afro, big hoop earrings and silver heels.
She captioned the set of stunning photos:
"STAND IN IT UNAPOLOGETICALLY! I LOVE ALL OF US 4 REAL! See you beautiful people in VEGAS. MO'NIQUE DOES VEGAS @ SLS HOTEL."
Fans of the former TV host took over her comment section to gush about her looks and her strength. "SO proud of you for staying true to who you are, and continuing to prosper. Go'on gurl!" wrote one user.
Another added, "You're so pretty! Loving the hair and the dress. You rock Monique." And a third one chimed in to say, "Wow! Sensational. Monique, you are an inspiration. You demonstrate how to STAND in your truth and not to back down, no matter what. It's nice to know someone is real in Hollywood."
The 51-year-old is currently in the middle of her first stand-up comedy residence in Las Vegas, at the SLS Hotel, a deal that came into her life right after she faced a huge controversy last year when she called fans to boycott Netflix for lowballing her during negotiations to make a comedy special.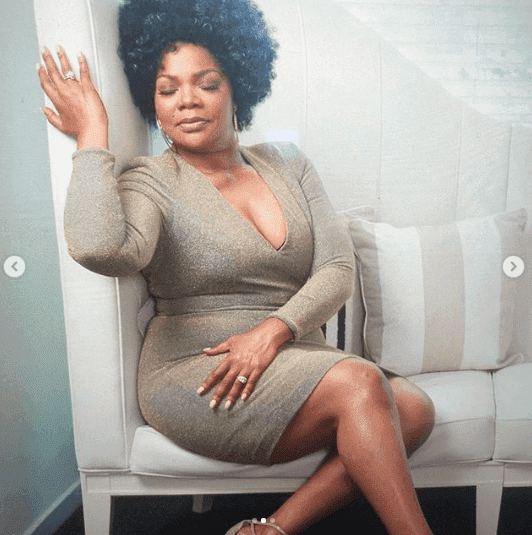 Mo'Nique stuns fans in a shimmery dress. | Photo: Instagram/therealmoworldwide/
Mo'Nique accused the streaming site of gender and racial bias, comparing the $500,000 offer they made her to the million-mark offers other comedians like Amy Schumer, Dave Chappelle, and Chris Rock received.
Despite the backlash she received and the lack of support her colleagues showed, Mo'Nique was able to move on from the incident, and when asked by Essence if she feels the residency is her revenge, she denied it.
"It doesn't feel like revenge because I'm not out to get anyone," she said. And continued:
"This is a part of what I do. I never stopped. Because people didn't see me, they thought I had stopped, but I've never stopped being a standup comedian. Through all of this, I was still traveling the country, going to this city, this city, this city, this city because that's my passion. That's my baby. That's my love."
Now, Mo'Nique's goal is to make her Las Vegas audience have a good time when they go to see her. "When you come to Mo'Nique Does Vegas, I'ma do Vegas, and you're coming for a lot of laughter, no judgment, a lot of love and a great time," she told Las Vegas Weekly.
"Am I going to do Vegas or is Vegas going to do me? What a wonderful Reese's Cup that will be!"
The "Precious" star is enjoying her time in the spotlight, and she doesn't plan to stop anytime soon as she says stand-up is therapeutic for her.
"If I walk away from stand-up, it would jeopardize who I am as a person. It's part of who I am. I'll be 99 years old with one tooth and one string of hair hanging, and they'll stay, "Coming to the stage!" And I'll say, yes, I'm coming, but it might take a little time," she concluded.
Please fill in your e-mail so we can share with you our top stories!