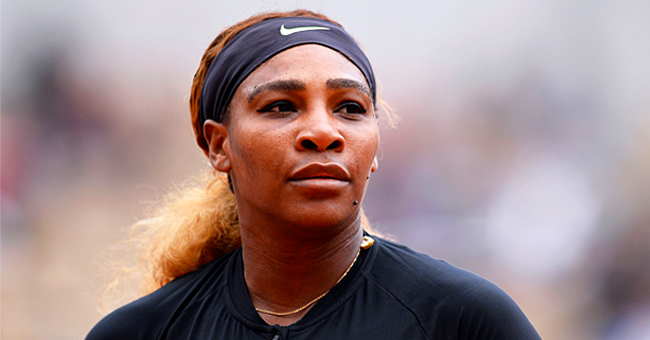 Getty Images
Serena Williams Invents $120 Twist Front Dress that Fits Women of Every Size and Body Shape
Serena Williams just created a dress that is inclusive of all women regardless of their size and shape. The tennis superstar is slowly becoming a fashion genius.
The 37-year-old tennis legend shook things up by creating a wrap dress that appears to fit women of all body types. She wore it herself in an Instagram video that displayed the dress on six other women as well.
As a thick girl herself, Williams recently revealed that she's gone through her own struggles with her looks. However, she has also been an aspiring fashionista for a while now. The clip of her in the red dress is found below.
The mother of one-year-old Alexis Olympia has been married to Reddit founder Alexis Ohanian since 2017, but you might not know it from her groundbreaking tennis career which she's continued to grow in the past year.
Williams revealed that fashion is not only a passion but a backup plan to her extensive run in the sport. She created her own line called S by Serena last year, and the dress is just the next big thing after a series of successful pieces.
The wrap ensemble comes in both red and black and is being sold for only $120. In the caption for the video, Williams stressed: "I designed the Twist Front Dress for everybody and every BODY."
She further explained:
"No one in the world looks exactly the same. We all are different people, we have different personalities, we have different traits. We all look different and we've got to bring our personalities out!"
Six women surrounded the tennis superstar all wearing the same red dress to suit them. One described how she felt wearing the outfit, saying, "I feel curvy, it gives me cleavage." Another playfully said, "I feel spicy like a jalapeno."
The point of the dress is not just to fit everyone, but to highlight and complement their features, and it seems Williams has done just that. "You know I'm curvy, but I'm confident in my curves," another woman explained.
The women praised the tennis superstar for her invention, as did people in the comment section below. As proof that people really do love the dress, the red piece sold out in a mere matter of days, with only a couple sizes still available.
Thankfully, there are quite a few sizes available in the black though. It looks like the seven-time Wimbledon champion really is having a "red hot summer over @Serena" as she wrote in the caption.
Just over a week ago, she posed for the cover of Sports Illustrated and those legs blew us all away. Known for her strength on the court, Williams showcased exactly where her power comes from when she's running down tennis balls.
In the magazine's Fashionable 50 issue, Williams wore a white swimsuit with a matching long robe. While her legendary behind was hidden, Williams' long toned legs were on full display and they looked amazing.
Within the issue is where the star talked about her struggles in the past. She also delved into the message she tries to send with each of her fashion creations. "I always try to send the message of just being confident and being fierce," she said.
The star was the definition of both confidence and fierceness when she wore a controversial black catsuit at last year's French Open.
The piece caused a buzz in the tennis world, but in the end, it just proved that Williams is perhaps the most fashion-forward tennis player we've seen in a long time.
Please fill in your e-mail so we can share with you our top stories!