Snooki Reacts to Mom-Shaming over Drinking Wine While Breastfeeding Newborn
Nicole "Snooki" Polizzi clapped back at critics that mom-shamed her for drinking wine while feeding her one-month-old son in a new Instagram pic. The "Jersey Shore" is asking the haters to "let a mom live!"
Nicole Polizzi has never held back when it comes to clapping back to her haters. So, when some people attacked her for allegedly putting her baby's health at risk by having a drink while bottle feeding him, she had her reply ready to go.
In the photo, Snooki is seen holding her newborn son, Angelo James, in one arm. She's holding a bottle to his mouth with her face, and a glass of wine with her other hand while taking a sip from the drink.
"'What's mom life like with 2 kids and a newborn?' THIS. #MomJuice #ImAGoodMomISwear," she captioned the controversial picture.
MOM-SHAMERS REACT AND SNOOKI CLAPS BACK
Although some friends and fans praised Snooki's multitasking abilities, the mommy-shamers didn't take long to hop into her comment section to attack her parenting style.
"This is the most ignorant picture I've ever come across!!! You're not getting the mom of the year award!!!" wrote one user.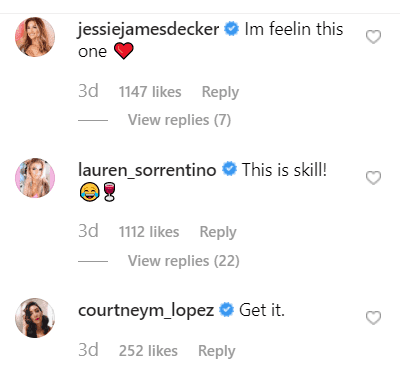 Another added,
"I a mom of 2 kids. I don't drink alcohol at all. Saying you need it to "stay sane" is terrifying."
And a third one pointed out:
"You not supposed to drink alcohol if you breastfeeding your baby,"
The mother of three replied to that commenter, who turned out to be a teenager, saying: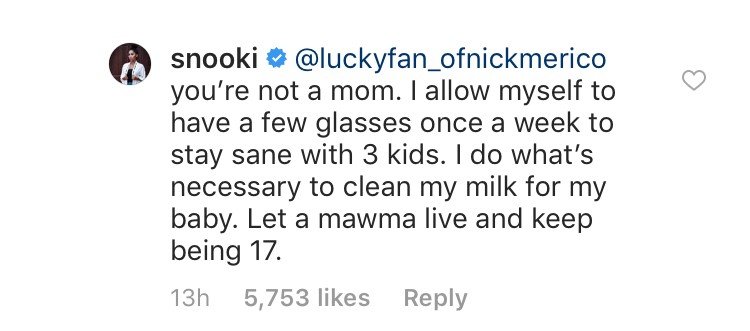 FANS TO THE RESCUE
However, other moms came to Snooki's support, sharing their own experience and assuring that there's nothing wrong with drinking while breastfeeding as long as specific measures are taken.
"There is absolutely nothing wrong with drinking while breastfeeding. Do some research people," wrote one user. "It is not necessary to even pump and dump. Damn skippy, I've enjoyed a glass of wine and still nursed my babies, and they're all beautiful, healthy, and smart."
And another added:
"And for those that don't know or have pure ignorance. Thirty minutes to an hour for red wine to be out of your system AND red wine is good for you. #getsomebusiness your babies are beautiful, and you are doing a great job. Let the haters hate because they stay medicated. #guidedbysocialmedia #havenocommonsense."
DON'T LET THEM WIN
Snooki, who also shares six-year-old son, Lorenzo, and a four-year-old daughter, Giovanna, with husband Jionni LaValle, revealed on the Women on Top podcast earlier this month that she has questioned herself about sharing much of her kids on social media, precisely for the amount of criticism she always gets.
"I ended up stopping for a little bit just because people on the Internet are as**oles and everyone is a mom shamer," she revealed. "Everyone can do things better than you. And they just give you this unwanted advice that I just couldn't stand, so I stopped sharing the kids."
However, the reality star later realized she was letting the haters win by restricting herself and not sharing her gorgeous kids on her page.
"They can't ruin my life and what I want to share with my fans. So, I just ended up posting the kids again right away," she said. "I want my babies to always be protected and in this little bubble, but at the same time, they are just such amazing little creatures, and I want to share them."
NOT MORE BABIES
Although Snooki and her husband had planned to have four children, the 31-year-old MTV star recently revealed that she's done after welcoming her newborn son.
"I always wanted four, and I always thought I'm gonna have four kids, but after I pushed [Angelo] out, I'm like, 'I am done,' " she said during an appearance on  "Live with Kelly and Ryan."
"And I just got out of my diapers. I wore those diapers for a while," she concluded.