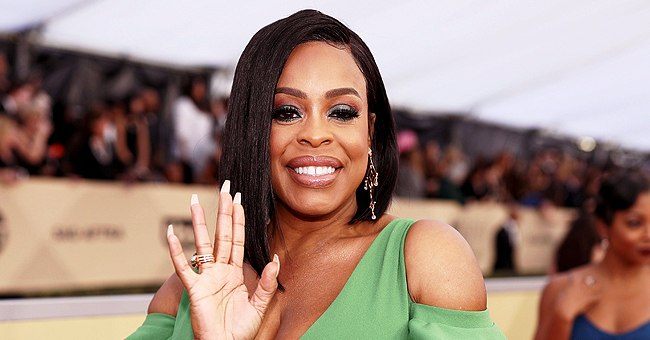 GettyImages
Niecy Nash Shares Photo with Her Beautiful Daughter and They Could Be Twins
Nicey Nash and her youngest daughter Dia could easily pass as twins in a new photo shared by the "Claws" star on Instagram. The actress recently went on a rant about self-love and apologized to her body for mentally tearing it apart.
Niecy Nash has strong genes, and her latest picture with 19-year-old Dia is proof of that.
The comedian took to Instagram a few weeks ago to share a selfie with her purple-haired daughter, and fans can't get over the striking resemblance the duo share.
"Purple Reign (she got it from her mama)," Nash captioned her post, which has received thousands of comments from people claiming she and Dia look like twins.
FANS' REACTIONS
"Sooooo... you're so Gorgeous you decided to make another you! Got it," wrote one user.
Another pointed out that Dia and Niecy have the "Same teeth and mouth."
And a third one joked,
"Good Lord, she's your twin!! Does she even have a dad, or was this child created through some kind of DNA replication?"
LIKE MOTHER, LIKE DAUGHTER
Dia and Niecy share not only facial features but also a passion for acting. The young lady gave life to the teenage version of Niecy's character, Desna Simms, on the hit series "Claws."
Nash couldn't have been prouder of Dia's accomplishment, especially because she did it all on her own.
"Look who's playing Teen Desna," the proud mom wrote on an Instagram post. And continued:
"Go, Dia!!! They were seeing girls to play Desna, and I told Dia she should go in for it. 'Let me help you with the audition,' I said. Her reply? 'I'm good. I will go over it with my acting coach'. Me: 'My baby is growing up.' She booked it on her own."
Although Dia hasn't booked any other role after "Claws," she seems to be enjoying her college life these days while keeping fans updated on her life through Instagram, where she shares beautiful pictures of her ever-changing hairstyles.
NIECEY'S APOLOGY TO HERSELF
Niecy, who recently received an Emmy Nomination for her role on Ava Duvernay's "When They See Us," came clean on Instagram a few days ago about being her own body-shamer and realizing the damage she was causing herself.
The 49-year-old mother of three shared a series of unretouched pics showing off her new swimsuit and flaunting her body in different poses in front of a mirror.
"I APOLOGIZE to myself!" she wrote in her caption. "I bought a new swimsuit and tried it on, then proceeded to Drag Myself- pointing out every "flaw," every bump, lump, scar, ripple & stretch mark."
However, Nash was quick to catch her self-deprecating thoughts when she realized her friends Kellee Stewart and Danielle Brooks would not approve of her words. With that in mind, Niecy changed her inner conversation, choosing to compliment every part of her body that she had criticized before.
"These hips caught two husbands (and a few boo's), my thighs touch but I gained weight having good food with great people," she wrote.
And continued:
"I see my c-section scar peeking out, but it's a reminder that I brought three beautiful children into the world. I allowed my stretch marks to whisper 'you are a grown a*s women who has survived a few thangs & STRETCHED in ways you never thought you could.'"
Nash admitted that learning to love your body can be a rollercoaster, but now she has a purpose: "to be kinder to myself today then I was yesterday."
Please fill in your e-mail so we can share with you our top stories!