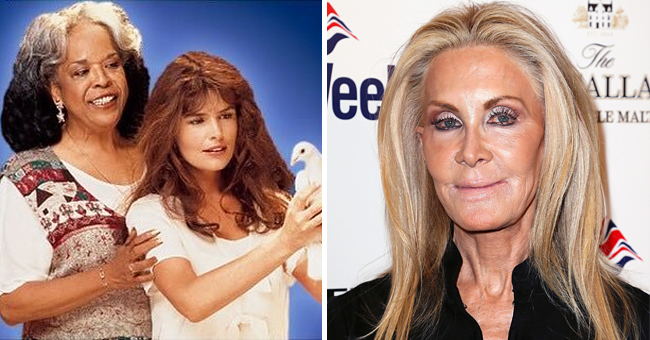 Getty images / twitter.com/Gingerhazing
'Touched by an Angel' – Where the Cast of This Legendary Drama Is Now
The series followed the lives of the many people who have used a little divine intervention to go through difficulties, with the help of a group of angels. It was the perfect vehicle for several stars to shine.
"Touched by an Angel" was aired for 9 seasons from 1994 to 2003 on the American TV network CBS. "Monica, Tess, and Andrew are a trio of angels sent to Earth to tell depressed and troubled people that God loves them and hasn't forgotten them," IMDb summarizes the series.
Now, 15 years after its cancellation, we wanted to know what has become of some of the most famous former cast members of the show. Some of them have left us, and some are still around pursuing their passions.
VALERIE BERTINELLI
Bertinelli played the character "Gloria" on the series from 2001 to 2003. She went on to land a few roles on TV movies and appeared in some series occasionally before getting a part as a series regular in "Hot in Cleveland" from 2010 to 2015.
Following the cancellation of the comedy series, Bertinelli made a drastic change in her career, giving up acting to become a chef and Food Network show host. Today, after 45 years working on TV, she has been finally nominated for an Emmy.
JOHN DYE
He played Andrew, the Angel of Death, in the show from 1996 until its ending. He got to appear in two minor films before his early death in 2011, aged 47, reportedly due to heart problems.
As his father said after Dye's death, the actor had devoted himself to different charities, such as the Make a Wish Foundation and others focused on AIDS research.
ROMA DOWNEY
She played the lead character Monica for the entire nine seasons of the series. A devoted Christian in real life, she and her husband Matt Burnett keep involved in the media as a way to keep influencing culture with their faith.
Downey and Burnett have produced shows like "The Bible" for the History Channel, a TV movie for Lifetime titled "Women of the Bible" and the recent remake of Hollywood classic "Ben Hur."
After a very difficult 2018, when Downey lost her brother and was forced to evacuate her Malibu home during the California wildfires, the actress and executive producer's latest project "The Baxters" premiered in 2019.
Downey stars alongside Ted McGinley in the family drama produced by Downey's own streaming platform LightWorkers Media.
DELLA REESE
Reese also appeared in the entire nine seasons of "Touched by an Angel," playing the beloved role of Tess, the "femtor" of main character Monica. She passed away in 2017, aged 86.
Apart from being a successful TV actress, Reese was also a jazz singer and an ordained minister. She helped found the Understanding Principles for Better Living Church in Inglewood, California.
After TBAA ended, Reese kept performing her music and releasing albums, with occasional TV appearances and the theatrical film "Beauty Shop" alongside Queen Latifah in 2005.
PAUL WALKER
Despite being arguably the most famous star in the list, Walker only appeared as a guest star on the show's 1996 episode titled "Statute of Limitations."Soon after this, Walker, who had already earned his place on American television with his leading role on "Tammy and the T-Rex" in 1994, moved on to the big screen in 1998, when he starred in "Pleasantville" opposing Reese Witherspoon.
Walker became a legend after portraying Brian O'Conner on the first installment of the film franchise "Fast & Furious" in 2001.
He went on to reprise the role on the subsequent films of the series, including "Fast & Furious 7" released in 2015 posthumously, since he tragically died in a car crash in 2013, aged 40.
JOAN VAN ARK
Van Ark guest-starred on the series in 1996 for an episode titled "'Til We Meet Again," playing the character Kim Carpenter. Her appearance came five years after she left behind her most famous role as Valene Ewing on "Dallas."
During the '90s and 2000s Van Ark made several appearances in hit series such as "Fresh Prince", "The Nanny", "My Name is Earl", and "Nip/Tuck."
She starred in "The Young and the Restless" from 2004 to 2005, and in 2013 she reprised her role of Valene Ewing for the revival season of "Dallas."
ESTELLE GETTY
The actress and comedian was already more than 70 years old when she made a guest appearance on the show playing the character Dottie in 1996. She kept making small appearances mostly on TV.
Forever remembered for her role of Sophia Petrillo on the iconic TV series "The Golden Girls" from 1985 to 1992, Getty passed away in 2008 after a long battle with Lewy body dementia that forced her to retire from acting in 2001.
Please fill in your e-mail so we can share with you our top stories!