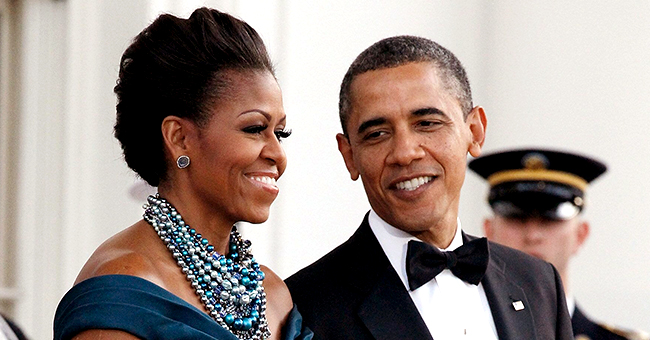 Getty Images
Barack and Michelle Obama Share Sweet Tributes on Her Mom Marian's 82nd Birthday

Barack and Michelle Obama took the opportunity to greet Marian Robinson a happy birthday on social media, sharing sweet messages and throwback photos.
Marian Robinson, Michelle Obama's mom, just turned 82-years-old, and her children made sure to pay tribute to the wonderful life she continues to live.
On Instagram, Michelle shared a photo of her mom during her youth, reflecting on what the photo means to her.
"Whenever I see this picture, and the look in my mother's eyes, I wonder if she has any idea what's coming in the decades ahead. Real love and real loss, children and grandchildren who'd keep her on her toes, a wild ride to places she'd only read about or seen on television."
Michelle's Guiding Light
While these are some of the thoughts she pondered on, she also shared that in those eyes, she saw a guiding light since she was born, and that led her to greatness throughout the years.
"But I also see something else in those eyes, something that guided me every day from the moment I was born - her unflappable belief that whatever came her way, she'd manage it. And because she'd manage, we all would, too. Happy birthday, mom. I love you!"
Barack and Marian
Likewise, Barack shared an adorable photo of him holding hands with his mother-in-law, sharing the many moments where she was right by their side through many official White House events like Easter Egg Rolls, Christmas tree lightings, inaugurations, and a lot more. However, what he wished to highlight, was that she was there behind the scenes, too.
"But what you haven't seen is the way she's been there for us every day ― not just for Michelle and our daughters, but for me, too," he wrote. "I've always appreciated her steadiness, her perspective, and the way a wisecrack from her reverberates around the room. Happy birthday, Marian ― here's to many more."
On Being a "Real Celebrity"
Those who follow the Obamas would easily remember the hilarious time Marian Robinson didn't believe her daughter was a "big deal."
When Michelle made a surprise appearance at the 61st Grammy Awards, her mom asked: "Did you meet any of the real stars or did you run right after you were done?"
Obama shared the adorable conversation on social media, captioning it with "When your mom doesn't think you're a "real" celebrity... Tonight in Phoenix, I shared this text thread from my mom from #Grammys night, and I just had to share it with all of you. #TextsFromMom"
Through thick and thin, Marian was by Michelle and Barack's side, and for that, they will forever be grateful.
Happy Birthday, Marian!
Please fill in your e-mail so we can share with you our top stories!