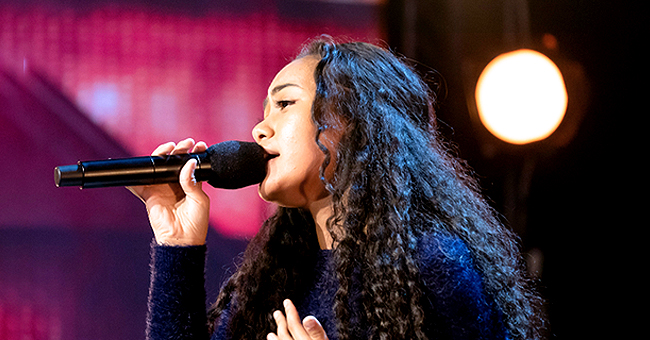 twitter.com/GotTalentAU
15-Year-Old Olina Loau Hits a High Note to Win the 'Australia's Got Talent' Golden Buzzer
One teenager blew away the judges and audience of "Australia's Got Talent" and when you hear her sing, you'll learn exactly why she received the Golden Buzzer at the end of it.
At just 15, Olina Loau is making waves with her incredible singing voice in a now-viral clip of her performance on" Australia's Got Talent." Her first appearance on the show left host Ricki-Lee in a ball of tears.
Loua is from Western Sydney and was supported by her parents as she prepared to go onstage earlier this week. When asked if she was nervous, the young girl was honest. "Incredibly nervous," she said.
However, she seemed to let it all go when she started singing Loren Allred's "Never Enough." The teenager's powerful vocals were made even more amazing by her ability to reach the high notes of the song.
At the end of it, all judges stood up to applaud Loua on her incredible display of talent. Host Ricki-Lee paused everything when she stepped on stage and personally praised the young girl.
"You're so amazing. I was balling backstage and my heart is racing a million miles now," she told an overwhelmed Loua. She went on to give the aspiring singer the Golden Buzzer, sending her straight to the show's semi-finals.
Loua will join the ranks of young Luke Islam, who performed on "America's Got Talent" last month and also received the highly-coveted Golden Buzzer from none other than his idol.
Islam, who is just 12 years old, wowed judges with his rendition of Sara Bareilles' "She Used To Be Mine." However, the aspiring Broadway star especially impressed dancer and singer Julianne Hough.
Before his performance, Islam revealed that Julianne and her brother Derek Hough were both people he looked up to in his hopes of performing on Broadway.
When Julianne gave him the Golden Buzzer, Islam was left in complete shock. The sweet boy was as polite as ever in his reaction to the dramatic affair. "I never expected anything like this to happen in my whole life. I am so grateful."
Please fill in your e-mail so we can share with you our top stories!