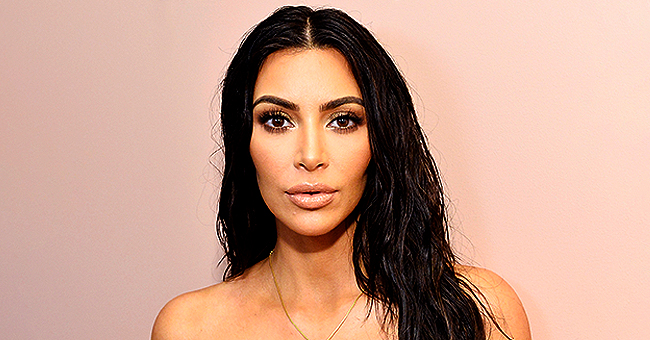 GettyImages/GlobalImagesUkraine
Kim Kardashian Sparks Responses on Social Media for Using Her Body Foundation to Disguise Sunburn
Controversial celebrity, Kim Kardashian took to Instagram to share videos which detailed her 'quick fix' to her 'sunburn' problem on Friday. However, several internet users did not approve of her methods and followed the post with lots of criticisms.
The 38-year-old mom uploaded several videos on her Instagram page. It could be observed from the clips that she had suffered from severe sunburn, which covered a significant part of her chest region.
Afterward, another individual was seen helping Kim cover the inflammations with her newly launched body foundation.
Kim's fans and internet users, however, remained skeptic to her choice of actions and expressed worry over her message, which seemed to 'advise people to cover up sunburns than seek proper treatment.' They showed this through to the myriad of comments that followed the post.
A commenter wrote:
"Girl please don't teach the world to cover sunburns with foundation."
While another added:
"You had to be in pain during that application though," with a sad face emoji.
Others, on the other hand, advised the reality TV star to seek different approaches to treating the sunburn. An instance was a user's comment which read:
"maybe some aloe (Aloe Vera) instead? Lmfao."
The list of ingredients that make up the foundation that Kim applied to her inflammations is not given on her product website. However, the foundation shows a strong presence of coconut and vanilla as noticed from its fragrances.
Also, advises from medical experts have instructed people to refrain from applying makeup on inflammations such as sunburn. In an interview with Refinery29, Dr. Dendy Engleman stated:
"Extremely burnt skin is damaged and needs time to heal. Applying makeup, especially if it has chemicals and irritants, can cause more inflammation to the skin. You want your skin to heal properly and quick."
The doctor also added:
"It's more important to focus on products that soothe and combat damage."
Dr. Dendy is a certified dermatologist.
THE BODY FOUNDATION PRODUCT
As acquired from Elle, Kim's 'Skin Perfecting Body Foundation' was launched on the 21st of June 2019. It was released alongside a list of new additions to KKW Collection which are: Skin Perfecting Body Shimmer, Loose Shimmer Powder and the Body Brush.
The body foundation goes for $45 and has perks, which include water resistance, transfer-proof and is available seven different shades.
Please fill in your e-mail so we can share with you our top stories!