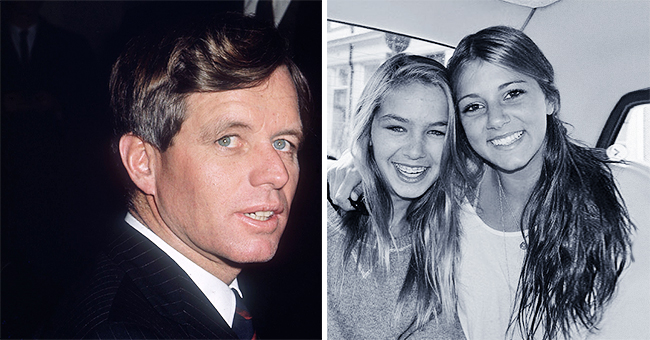 Getty Images // instagram.com/michaelakennedycuomo
Robert F Kennedy's Granddaughter Michaela Mourns the Death of Her Cousin Saoirse Who Died at 22

Michaela, the granddaughter of Robert F Kennedy, took to Instagram to mourn the untimely demise of her cousin, Saoirse. She was only 22 years old.
Bereaved, Michaela shared numerous pictures of gorgeous Saoirse on her Instagram just a few hours ago.
The images are tear-worthy as they capture intimate moments between the deceased and Michaela as well as with their other close relations.
"SAOIRSE, THE CHEERLEADER THAT THE UNIVERSE NEEDS" – MICHAELA
There are about ten photos in total but no one's complaining. Just within the short time they popped up on Michaela's feed, the images have elicited several reactions from other users. That is all thanks to Michaela's heartfelt words.
Aside from the numerous pictures, Michaela penned down an emotional and rather lengthy caption describing cherished moments with Saoirse. She started:
"Anyone who's path crossed Saoirse's would instantly feel her infectious charisma and fervor for finding joy in every moment."
Michaela's message continued as she explained that thanks to Saoirse's adventurous spirit, she was quite popular with people.
According to her, Saoirse was "deeply passionate, authentically caring, and intelligent and insightful beyond her, or anyone's, years."
She further shared the sad news that "the world lost a light" yesterday, August 1. Michaela also explained that the one way to honor Saoirse's memory would be by projecting her fun-loving spirit. Michaela wrote:
"Let us honor her life by carrying forth her loving compassion, merriment, and her passionate fight for women's empowerment. The world will be a better place for as long as we can embody Saoirse's soul. Her legacy lives on through love."
THE CAUSE OF SAOIRSE'S DEATH REMAINS UNCONFIRMED
Saoirse was the daughter of Robert and Ethel Kennedy's fifth child, Courtney, and Paul Michael Hill. AP News reports that Saoirse attended Boston College, where she was a member of the class of 2020.
The Kennedy family first confirmed her untimely death in a public statement after authorities were alerted about a possible drug overdose on Thursday.
However, the statement, issued by a spokesman for Saoirse Hill's uncle, former congressman Joseph P. Kennedy II, did not include information about Saoirse's cause of death.
The Associated Press, however, shares that audio of a Barnstable police scanner call had it that the officers were responding to a report of a drug overdose at the family's estate.
No matter the cause of Saoirse's death, it is still a heart-rending one because of how promising and youthful she was. May her soul rest in peace.
Please fill in your e-mail so we can share with you our top stories!