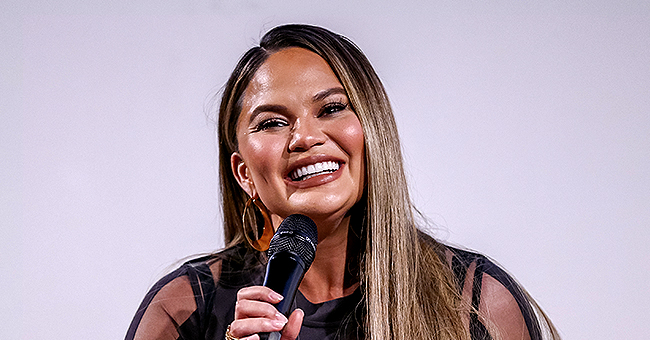 Getty Images
Daily Mail: Chrissy Teigen Enjoys a Day Out in Malibu with Her Kids and Mom

Chrissy Teigen, the wife of John Legend, was seen in Malibu, California, enjoying ice cream next to his children Luna and Miles and her mother, Vilailuck.
In the photos shared by Daily Mail, the 33-year-old celebrity appeared wearing a loose, black dress, dark sunglasses, a black purse, and a black headband. Luna, three, chose a loose salmon dress and had her hair styled in piggy tails.
Miles, one, was dressed in blue pants, a black shirt, and what appeared to be a white bib, probably to avoid his shirt to get dirty with ice cream.
Vilaluck, who accompanies Chrissy most of the times, opted for black leggings, a black and white shirt, a dark blue cardigan, and a straw hat. During that outing, which took place on July 29, the family did some shopping and also played at a nearby park.
Chrissy's day out with her children and mother happened soon after she got criticized on social media after posting a video of Miles' "first real steps."
Although the moment was supposed to be a highlight in the child's life, some of Chrissy's followers couldn't resist sending backlash.
In the clip, shared on the celebrity's Instagram Stories, Miles appeared walking from a piece of furniture toward his mother, who was a couple of steps away recording the milestone.
As he approached her, Chrissy said, "good job!" and he then got back to where he initially was, what made his proud mother keep encouraging him to walk even more. She later posted another video showing Miles taking a few steps before falling on a carpet.
Unfortunately, Internet trolls quickly criticized Chrissy's parenting skills because Miles was walking too close to a marble bathtub.
Soon after receiving backlash, John Legend's wife commented that she has to block "20-30" people every time she posts her children and added, "so many dummies. Is someone forcing you at gunpoint to be annoying?"
It is not the first time that Chrissy has to defend herself in social media, though. In July, a Twitter user made fun of her by posting a photo of the famous model carrying Miles in a hit tub while John was sitting behind her.
The reason the Twitter user posted the pic was that he thought John's face looking at his wife's derriere was funny. However, Chrissy didn't like it and replied, "Everyone so used to ass shots and photoshopped Instagrams. I've had no ass forever - is this new news to some of you?"
She kept complaining about haters pointing out that they would not leave her alone even if she got her butt done, finishing with "never can win!"
Please fill in your e-mail so we can share with you our top stories!