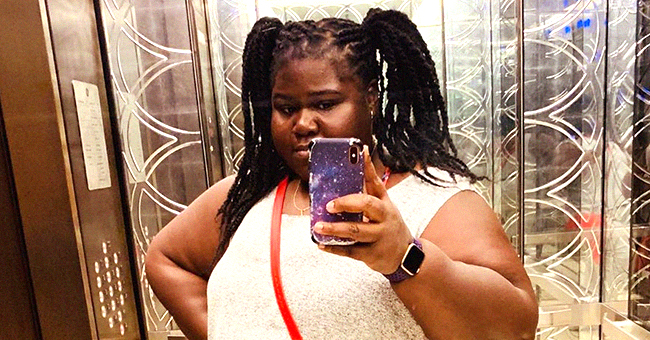 Instagram/gabby3shabby
Gabourey Sidibe Rocks Ponytails & Shows off Slimmer Figure in Elevator Selfie

The beautiful "Empire" actress Gabourey Sidibe has lost so much weight, and she is taking to her Instagram page to show off her new look.
In a recent selfie, Gabourey looked stunning in an elevator rocking an all-grey ensemble and braids packed in a ponytail. The actress who looked adorable in her casual clothing had fans gushing about how much weight she has lost over the years.
The image which was captioned "In these elevators being fast....." has garnered thousands of likes and lots of comments.
Through the years, Gabourey has never been one to shy away from talking about her weight loss journey. The 36-year-old actress has had her fair share of internet trolling and fat-shaming when it comes to her weight.
Although Gabourey has a thick skin and had never let the haters get through to her, she decided to take the healthy route mostly because her health was in jeopardy.
In a tell all book "This Is Just My Face: Try Not To Stare" released by the actress in 2017, Gabby revealed that she took a bariatric surgery to lose weight. Gabourey confessed that the decision to have the procedure done was not as a result of some insecurity she had in her looks but rather because of her health.
Unknowingly to the public, the actress suffered from Type 2 diabetes, depression, anxiety, and bulimia, which is all attributed to her weight.
"It has taken me years to realise that what I was born with is all beautiful. I did not get this surgery to be beautiful. I did it so I can walk around comfortably in heels. I want to do a cartwheel. I want not to be in pain every time I walk up a flight of stairs," the 36-year-old wrote.
Gabby's 2016 surgery which was to reduce the size of her stomach led to a massive loss in weight. Even though the operation was a significant milestone in her weight loss journey, it wasn't the only thing that has helped over the years.
The actress has since adopted a healthy lifestyle which includes drinking lots of water, cutting out junks and eating at the right time.
Whatever it is that she is doing does seem to be working, and the beautiful "Empire" star does look her best in recent times.
Please fill in your e-mail so we can share with you our top stories!