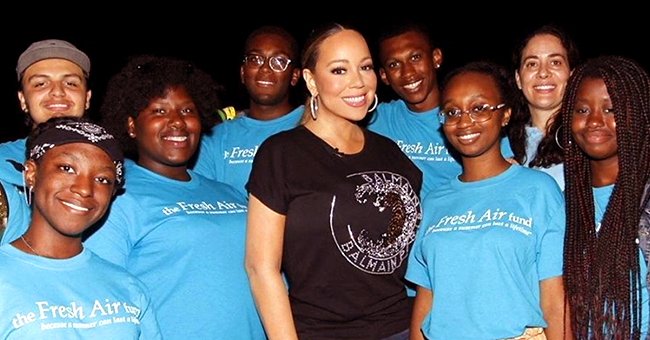 Facebook/freshairfund
Mariah Carey Talks 'Tough' Childhood, Says: ''Music Was My Sole Inspiration'

Mariah Carey opened up about her childhood while visiting "Camp Mariah." She referred to music as "her only inspiration," amid other heartbreaking revelations.
Pop music icon Mariah Carey, recently braved stormy weather and vehicular issues to travel 60 miles from New York to Fishkill to celebrate the 25th anniversary of Camp Mariah with young campers.
During the Q and A segment with the campers, the iconic singer opened up about her tough childhood, and she informed her young audience, that, "music was my sole inspiration."
Carey added that she had to start her career at 12 because of the difficulties in her life. The Grammy winner said she had no one to be her guide and hence worked hard, and learned from the studios.
The singer who had summer camps as a source of escape, and shot her "Always Be My Baby" video at Camp Mariah added that she does not see herself as an icon. She explained that music was her escape, and she got into it out of necessity.
The biracial singer said she only wanted a way to express the things she could not put into words, and feel worthy about herself and heritage.
The "We Belong Together" singer who said in a 2018 interview that her 8th grade was the lowest point of her life, added that the challenges in her life taught her that everything is possible with God.
Carey revealed that sometimes, she still feels like an outsider looking in; like she's still that "lost interracial child who dared to believe that she could succeed at anything in this life."
The singer might have started with that thought, but she went from succeeding to being iconic, and today she is a pop goddess.
Carey's parents, Patricia Hickey, and Alfred Roy got married at a time when racism was at its peak, and interracial marriages were uncommon.
The difficulty brought on by the world they lived in caused the singer's family to move around frequently and eventually led to her parents' divorce.
By the time Carey got her break in music, her quest to escape the life she had, led her to marry former Sony Music mogul, Tony Mottola.
Years down the line, she described the relationship as "controlling" and likened herself to a prisoner. Carey eventually got free after eight years, and these days, she dedicates herself to her children and "Music," which she sees as her "saving grace."
Please fill in your e-mail so we can share with you our top stories!