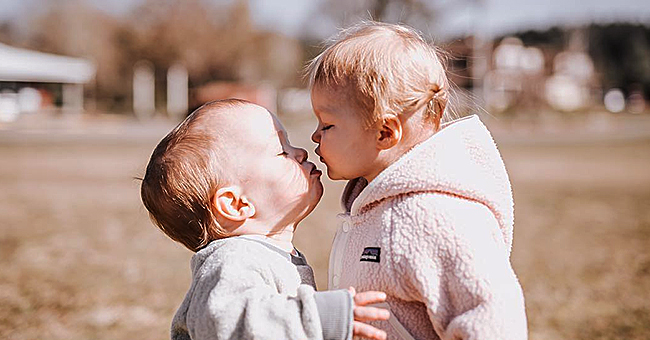 instagram.com/toriroloff
Jackson Roloff Lets Cousin Ember Hold His Hand in a Sweet New Video
Audrey Roloff recently managed to capture one of the cutest moments in the history of "Little People, Big World," featuring her daughter Ember and her cousin Jackson.
The 29-year-old took to her official Instagram account to share a video of Ember and Jackson happily walking around the property while holding hands.
In the short clip, Ember can be seen guiding little Jackson around by the hand, as if she was worried he would get lost. Even when they stopped, she made sure he was at a safe and close distance.
THEY ARE THE TRUE DEFINITION OF CUTENESS OVERLOAD
A very proud Audrey can be heard praising the children for their efforts and, in the caption, she described them as the "two cutest farmers" anyone will ever see.
ROCKING VINTAGE SHOES
But Ember and Jackson's close friendship wasn't the only interesting fact of the video. According to Audrey, her daughter was wearing original Jelly shoes.
She revealed that the 1990s shoes once belong to her and that her mother saved them. They fit Ember perfectly so she has been wearing them since summer arrived.
AN EXPLORER IN THE MAKING
As for Jackson, he just keeps growing by the minute and is getting more and more independent. In fact, he usually wanders around Roloff farm on his own.
The claim was made by his parents, Zach and Tori Roloff, who said that he likes to venture on his own while they are busy with work. However, they feel safe letting him walk around the farm.
According to Tori, the staff working at the property has grown accustomed to keeping an eye on Jackson, and they are always ready to intervene in case something happens.
This has already led to a hilarious misunderstanding involving Tori's mother, who picked Jackson up and was yelled at by an employee to put her grandson down.
Tori quickly intervened and explained that that was Jackson's grandmother and not a kidnapper, but it just comes to show that Jackson always has someone watching out for him.
Please fill in your e-mail so we can share with you our top stories!