Bride Faces Criticism for Her Ring That Is Too Small for Her Finger
A bride was mocked after a photo of her wedding ring, that was too small to reach the end of her finger, surfaced the internet.
A bride faced criticism online for her small wedding ring that couldn't go past her knuckle as she exchanged vows with her husband. The photo emerged on the Facebook group "That's it, I'm Ring Shaming" by an American user.
UNFLATTERING PHOTO
"Ummmm… why wouldn't you make sure your rings fit on your wedding day." the photo's caption read. "This is her profile pic."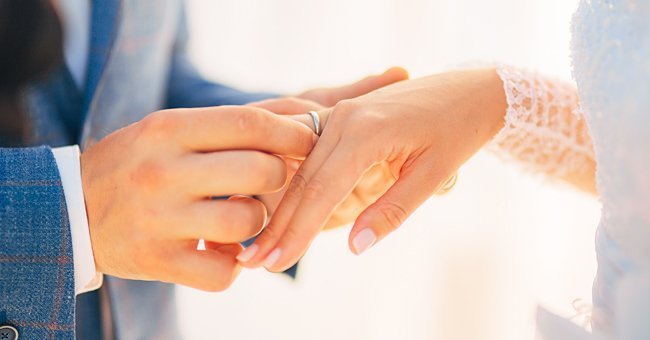 A close up picture of the bride's hand placed on top of her husband's hand quickly caught the attention of people and had comments flooding the post. Some blame the photographer who shouldn't have taken an unpleasing photo close up.
COMMENTS FROM THE GROUP
"They should have just taken a picture of the rings instead of on their hands," one person commented. "Hopefully she got them resized because yikes."
I just got torn apart (and then banned) by the secret ring-shaming group on Facebook for writing about their page, and I gotta say, they serve a way better roast than the alt-right does over here https://t.co/TIiscbHjag

— miles klee 🌲 (@MilesKlee) November 10, 2018
A jeweler also commented on the post and revealed that many people actually tend to buy their rings only a day prior to the wedding, hence the possible mishap. She further said that ring stores do not always have all sizes available, making it unpredictable to have what you want immediately.
"I'm allergic to cold (makes no sense, I know) and the swelling always starts in my hands and feet," one person shared. "Either way, I wouldn't make this my profile picture."
Bride is mocked over wedding ring that was too small to fit over her knuckle https://t.co/BpvKivNJxx

— Daily Mail US (@DailyMail) August 8, 2019
WEDDING RINGS
Wedding rings are a must in almost every wedding to symbolize the union of the bride and groom, making it essential to both. Patrick Waddell treasured his wife's wedding ring after she passed away and turned it into a necklace.
Unfortunately, Waddell accidentally lost it as he took his daughter's out to Myrtle Beach. He reached out to the Facebook community in hopes that a good Samaritan would find and return it, even though he knows that the rings don't define his love.
CAN YOU HELP? Patrick Waddell said he lost his wife to colon cancer four years ago | Man loses special necklace honoring late wife during Myrtle Beach vacation>> https://t.co/JAlE7uzTs3 pic.twitter.com/gLj1g0mmSe

— Live5News (@Live5News) July 30, 2019
"I know that's hard for some people to understand," he said. "But Sheri lives in my heart. I love my rings, but if I never found them, it's not like I lost her. You got to let go, and let God. I just knew they would find their way back."
Luckily, someone rang Waddell with the news of finding his rings. The person who found the jewelry in Graham Golf Cars parking lot wished to remain anonymous, but Waddell was more than grateful to know that there are still good people who return found items.