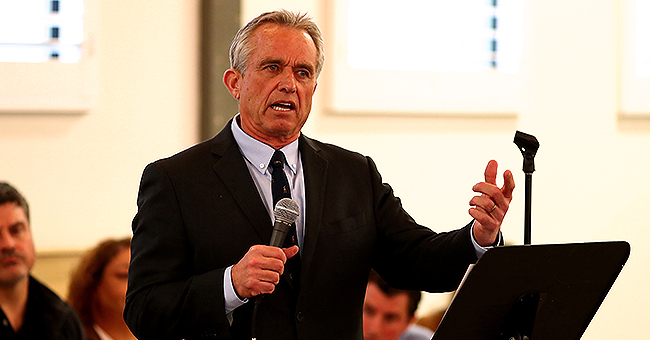 Getty images
Robert F. Kennedy Jr. Shares New Photos to Honor Late Niece Saoirse Kennedy Hill

Days after the burial of Saoirse Kennedy Hill, granddaughter of Robert F. Kennedy, her Uncle Robert Kennedy Junior shared photos of her on social media in honor of a life well served.
Robert F. Kennedy Junior, son of Robert F Kennedy, shared photos of his deceased niece, Saoirse Kennedy Hill on Instagram to honor her in a series of about ten pictures, and a kite surfing video.
LIFE OF THE PARTY
In all the posts, one thing that could be deducted was that the deceased young Kennedy was a free-spirited lady who was full of life.
The first post was of the late 22-year-old, kite-surfing with her cousin Georgia on a beachfront. The second post featured her with her friend Cliona, and a third with Keegan in Hyannis port as captioned by the bereaved uncle.
In another photo, the free-spirited beauty could be seen toying with the sails of a glide, which she soon swung on, towards the deep ocean in a later shot.
Majority of the pictures featured her having fun with friends, and it was apparent that she was the life of the party. He rounded off the photos posted in her memory with a link that redirects to an online copy of the touching eulogy he read of her at the funeral.
EULOGY TO A RARE GEM
The beautiful granddaughter of Robert Kennedy passed on at the Kennedy compound in Hyannis Port about two weeks ago. Her death was sudden and unexpected as she went to bed at dawn, healthy, and in her usual jolly nature, after a night of partying.
Her beloved uncle honored her at a service with a eulogy that left the crowd in tears. He spoke fondly about his experience watching her grow, her rebellious and outgoing spirit, describing her as "a big personality with a loudmouth."
He focused on her adventurous nature, stating that her existence was a string of escapades. Robert Jr. detailed some of her strengths, accomplishments, and hobbies, before venturing into a sorrowful narrative of her last night on earth.
He concluded the eulogy with a word of thanks to Saoirse's parents for bringing her into their lives. On that note, he added:
"If anybody ever wondered whether God loves the Kennedys the proof is that he gave us Saoirse, this brilliant beam of light and laughter. Now it's time for us to cease being sad at her passing and to practice being grateful that we had her for 22 amazing years."
The cause of her death is still unknown as the toxicology reports are yet to be released. However, following the demise of the 22-year-old, superstitious beliefs about an existing Kennedy curse has sprung up again.
Many have speculated that the death of the college undergrad was in line with a series of other mysterious deaths that have plagued the Kennedy's in the past.
Saoirse's death follows the pattern of other family members like Joseph P. Kennedy, Kathleen Kennedy, John F. Kennedy, late Robert F. Kennedy, Mary Kennedy and several other that were met with mysterious deaths.
With these series of occurrences, one can't help, but wonder if indeed there was such a thing as the "Kennedys' Curse."
Please fill in your e-mail so we can share with you our top stories!