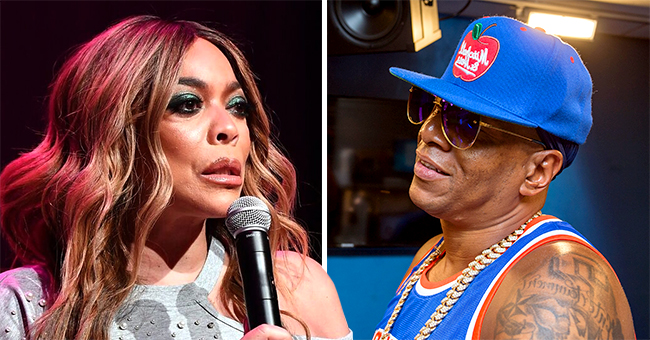 Getty Images
Wendy Williams on Kevin Hunter's 'Double Life', Says She Knew a Lot of Things for Years
Wendy Wiliams reveals that she's known about ex-husband Kevin Hunter's "double life" for years, and just chose to stay for the sake of her son.
On SiriusXM's Radio Andy, Williams opened up about why she decided to stay with her estranged husband Kevin Hunter despite knowing he was cheating on her. It turns out, she did it all for her son, Kevin Hunter Jr.
"I had to get my ducks in a row. I knew a lot of things for years but my son was at home. It wasn't fair to him. I'm not going grab his hand and flee the scenes and move zip codes. Now he has to move high schools and stuff like that — he's just making friends. Now he's away in college, and the person I am now is very single because he's not living with me. He goes to school in Miami."
The 55-year-old host also shared that while people threatened to expose photos of Hunter's home with her mistress, she said she had some of her own and would've left him even if those exposes came out.
"I can take a lot, but I'm not raising a family."
Acknowledging Hunter's Second Family
The famous talk show host said this in reference to Hunter's mistress, Sharina Hudson, welcoming a child with Hunter back in March. It was in April that Williams finally filed for divorce.
Acknowledging that fact, Wendy ended her interview by saying that regardless of what happens, she still has love for him and wishes him the best.
"I still have love for him and I wish him the best in his new life with his new family…"
Making Things Right
Meanwhile, Kevin released a statement about his actions, hoping to make amends with his then-wife. However, it seems regardless of what he says, the divorce is pushing through as planned.
"I am not proud of my recent actions and take full accountability and apologize to my wife, my family, and her amazing fans," he shared. "I am going through a time of self-reflection and am trying to right some wrongs."
Despite the divorce, he shares that they will always be "The Hunter Family."
"I have dedicated most of our lives to the business empire that is Wendy Williams Hunter, a person that I truly love and respect unconditionally. No matter what the outcome is or what the future holds, we are still The Hunter Family and I will continue to work with and fully support my wife in this business and through any and all obstacles she may face living her new life of sobriety, while I also work on mine. I ask that you please give me and my family privacy as we heal. Thank you." He concluded.
Please fill in your e-mail so we can share with you our top stories!