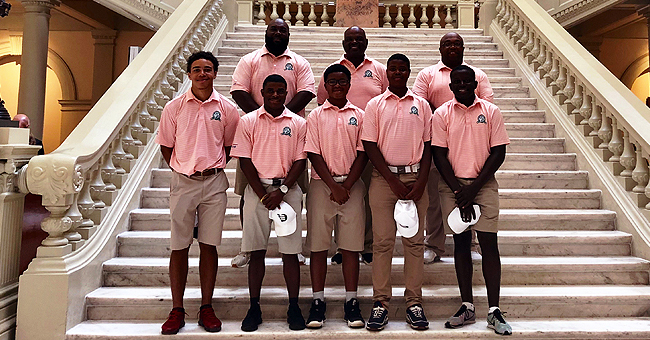 Twitter/DrewCharter
Atlanta Youth Make History as First All-Black Golf Team to Win State Championship
The Varsity Boys golf team of the Drew Charter School in Atlanta made history after becoming the first public school team in Georgia to win a golf state championship. The team was made up of all blacks.
The Varsity boys golf team, have done the entire black community proud after emerging champions in the golf state championship making them the first team, comprising of African-Americans predominantly, to emerge victoriously.
THE TREND BREAKERS
The team earned their victory, courtesy of coach Nyre Williams, who was formerly a golfer before his retirement. The legendary golf team is peculiar for being made up of African-American golfers, and an equally black trail of the coaching staff.
A VICTORY TO REMEMBER
The state finals held in May, where the Varsity boys bagged a win against Gordon Lee, the two-time defending state champions. The winning margin was impressive, with the team topping their contenders with over fifteen strokes.
A DATE WITH HISTORY
The team members, who admittedly came prepared to make history at the tournament could hardly believe their good fortune when the defending champions conceded to them.
In an interview, one of the team members expressed his sentiments on behalf of his team. He said:
"We're making history. We've got even bigger stakes on us now, after going to the national championship. Being the only black team there, it just means a lot. We've got a lot of people rooting for us."
THE BITTER EFFORT
Their victory did not come without struggle. Their coach, Nyre was the acting director of the First Tee of East Lake Foundation, a youth development program.
All the teammates of the legendary golf team were also members of the foundation, through which the coach mentored them into championship winners.
But the coach was quick to point out that the sole aim of the non-profit youth development golf program went beyond playing golf. He said in an interview:
"We also encourage life goals and healthy habits," he added: "To be honest, our goal is not to breed professional golfers. However, when they work with us, the option to play golf is there."
MENTORING THE CHAMPIONS
When asked about the major thrill he got from mentoring the group, the coach said:
"The capacity to teach these men things they wouldn't have an opportunity to learn outside of the game. This platform has allowed them to recognize their worth and aspire to goals they wouldn't have otherwise thought of accomplishing."
One of these rare feats would include meeting the Republican Governor himself. Last month, the golf history breakers were privileged to be congratulated by the Republican Governor, Brian Kemp at the Georgia State Capitol.
This and some of the educational and scholarship benefits they have been rewarded with has indeed impacted the lives of these young men.
Please fill in your e-mail so we can share with you our top stories!