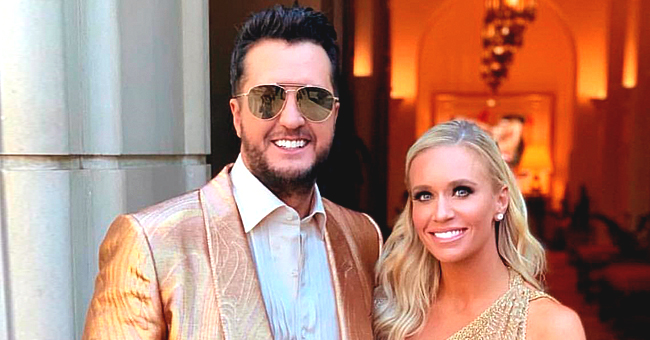 instagram.com/linabryan3
Luke Bryan & Wife Caroline Boyer Celebrate Son's 9th Birthday with Adorable Photos and Video

Country singer, Luke Bryan and his wife, Caroline Bryan, are couple goals as they commemorate their son's birthday. Caroline's includes a video clip that has the entire internet in hoots of laughter.
Tatum Bryan, the youngest child of the beautiful couple, marked his ninth birthday on Sunday, August 11. In celebration, Luke and Caroline took to their respective Instagrams to share adorable snaps of the youngster.
While Luke focused on Tatum's growth over the years, his wife's took on humor. It is cuteness overload on Caroline's feed as she shared two snaps of her fast-growing son.
In the close-up shots, Tate is smiling excitedly wearing a plastic gold crown as well as other fun birthday costumes. She wrote to caption the shots:
"Happy birthday, Tate!!! You're the king today! #9 and feeling fine!"
The most adorable part of Caroline's entire post comes when you swipe left to see the third, a short video clip. The video runs for a short time, but it is enough time to get whoever views it rocking in laughter.
It features little Tate and his older brother, Thomas getting an over the top wakeup call from their scantily-clad gorgeous parents.
The young duo is asleep on a black sofa and covered with a blanket when Luke and Caroline storm in playing loud birthday music. As if that wasn't already enough to jar the boys awake, hunky Luke jumped right on the sofa to do a happy birthday dance. He even swiped the large blanket away from the boys!
His deep baritone voice that has earned numerous accolades throughout his career can be heard singing along to the lively music. Caroline didn't miss out on the fun as she gyrated back and forth alongside her hubby.
In response, the boys groaned and covered themselves back up only for Luke to expose them yet again! Luke and Caroline's joy is just so infectious that the clip has become very popular online. So far, the post has amassed over 56,000 likes and nearly 1,000 comments!
The comments section contains humorous responses from fans to the short clip as well as many birthday wishes. Referring to Luke's exciting performance, one fan, @lauraparryscraggs commented:
"'Go Tate Tot' should be his new single!"
Another Instagram user, @sharinola wrote:
"Can we just take a moment and appreciate the fact I aspire to be as majestic of parents as @linabryan3 and @lukebryan."
Going by the frenzied reaction to Caroline's post, it almost seems like the internet was made for such. Well, no one's complaining!
Please fill in your e-mail so we can share with you our top stories!