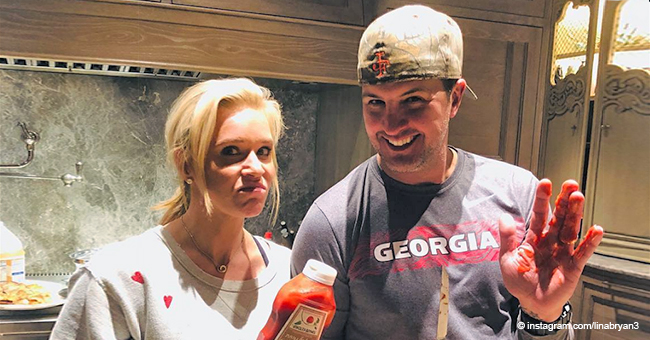 'Our Love Is so Hot!' Luke Bryan and His Wife Amost Burn Their House While Cooking Dinner

"American Idol" judge Luke Bryan and his wife of more than a decade, Caroline Boyer, learned that they should not cook on a grill inside the house the hard way.
The couple met in the late '90s at a local bar while both of them were students at Georgia Southern University. At that time, Bryan was a senior and Boyer was a freshman.
He has admitted a couple of times that their relationship was unstable when it began as they would break up and get back together. Later, when Luke graduated in 1999 with a bachelor's degree in Business Administration, they broke up again.
Thankfully, they got back together five years later, and, after having a very caring romance, they decided to get married on December 8, 2006. One of the most striking aspects of their relationship is that Boyer was the breadwinner for a while.
"Have a sense of humor and selective hearing. Many days I swear Luke needs a hearing aid."
BOYER WAS THE BREADWINNER FOR A WHILE
Before Bryan started his very successful career in the country music industry, Boyer's career supported him when he "was making about $10,000 a year. She was the one bringing the dough."
Things got better for them and, from that point on, they have proved to be one of the funniest couples in the country music's world.
A HOT PROBLEM
A recent post that Boyer shared on her Instagram page is proof of that. It is a slideshow with three clips. In the first one, Boyer said that their love was so hot that they create smoke wherever they go.
While saying that, she turned the camera around her house so that people could see all the smoke. For the second video, Boyer showed the kitchen, which had some meat being grilled while emanating a lot of smoke.
A LESSON LEARNED
Bryan pointed out that he would never grill in the house again, proving that he learned a lesson. The final clip portrayed Bryan flipping the pieces of meat and Boyer saying, "we have a little trouble."
The good aspect out of all that smoke is that the food had a good taste, as revealed by Boyer herself in the comments section when one of her followers asked. She also said that they decided to cook indoors because it was "cold outside."
BOYER'S MARRIAGE TIPS
In November 2018, the pair made headlines again when Boyer uploaded a photo on Instagram revealing what she considered are good tips for a successful marriage.
"Have a sense of humor and selective hearing. Many days I swear Luke needs a hearing aid," wrote Boyer.
Please fill in your e-mail so we can share with you our top stories!