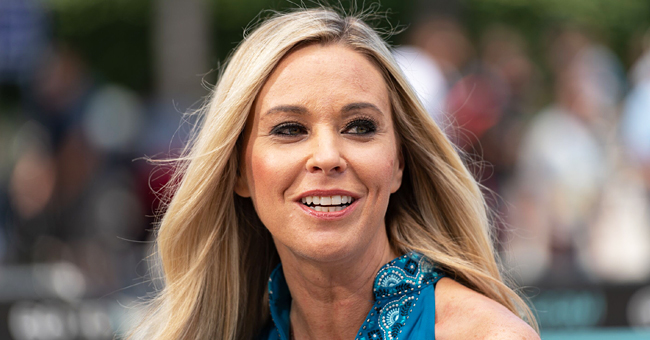 Getty images
Kate Gosselin's 18-Year-Old Daughter Mady Shares a New Photo of Herself

Kate Gosselin's twin daughter, Mady is not one to make many posts on her Instagram page, as her account has just ten posts till date.
However, whenever she posts, it is bound to generate a certain amount of interest, and her last post was no different.
If Mady's Instagram page is anything to go by, one would think she doesn't really enjoy the spotlight. Mady's first post on the social media network was in October 2018, and since then she has gone on to add nine more.
Her latest post showed her eating while making a weird expression with her face.
MADY'S "ALIEN" POST
Mady posted a photo of herself as she grubbed on her food. That, however, wasn't the catch of the picture. The 18-year-old wore a facial expression that can best be described as weird.
And to buttress the point behind her expression, the reality television star captioned the post with an alien emoji.
Mady has a little over 78,000 followers on Instagram, and a handful of them made comments on her post. While some chose to caption the picture, others said her caption was descriptive enough.
A few others, however, decided to ask Mady when next she would be posting a video on her YouTube Vlog, as they thoroughly enjoyed the first one she posted.
The rest of the comments focused on Mady's beauty, with some concerned fans asking her if she was going to college soon.
KATE GOSSELIN PREPARES HERSELF AS HER TWIN DAUGHTERS GO TO COLLEGE
Come this fall, the mother of eight would see her eldest daughters, twins, Mady and Cara go to college, and as the day draws closer, she continues to have mixed feelings.
Kate, a mother of eight unique children, a set of twins and a set of sextuplets, admitted that seeing her daughters go to college was the biggest mixed bag of emotions and stress that she has ever faced.
She explained that when Mady and Cara were applying for college, that she trusted them, as they knew what they wanted, but that as the day comes closer, she would have to curb her fears with that same feeling of trust.
Mady and Cara chose not to attend the same college, which would be the first time the teenagers would go to different schools.
Kate would surely miss her twins, but she would still have a full house with her fifteen-year-old sextuplets, who are still in high school.
Please fill in your e-mail so we can share with you our top stories!