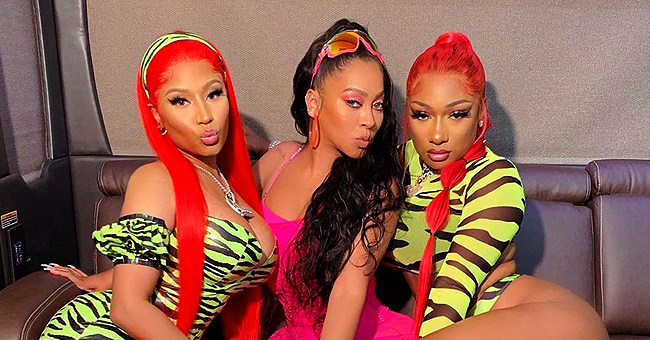 Instagram/lala
La La Anthony Poses with Nicki Minaj and Megan Thee Stallion in 'Hot Girl Summer' Photo

"Hot Girl Summer" is fast becoming a trend! Hot ladies, La La Anthony, Nicki Minaj, and Meghan Thee Stallion pulled off some off-the-set collaboration in new Instagram photos.
Still in the "Hot Girl Summer" vibes, actress, La La Anthony, 36, posed alongside rappers, Nicki Minaj and Meghan Thee Stallion in a new social media post.
The photo featured the actress dressed in a pink jumpsuit which covered her feet, flanked by the two other legendary Hollywood hotties. Nickie sat on the right side of the actress, wearing a tiger-striped, tight-fitting short dress that revealed her legs and matching tiger-striped shoes.
Meghan, on the other hand, pulled off the sexy diva look, in an identical striped dress and strapless heels.
The three women displayed their perfect manicures and rocked peculiar hairstyles, with Nicki and Meghan sporting flowing red hairs, while the 36-year-old wore her dark tresses in a ponytail.
The "Monster" singer let her hair down, with a thin band across it, and Meghan rocked a multi-knotted ponytail. The killer pic was captioned: "HOT GIRL SUMMER," followed by a fire emoji.
The photo which has over three hundred thousand likes and almost three thousand comments attracted lots of admirations and positive remarks from fans.
"All the hotties together yaass the slayage is real," a comment on the post read.
This comes a day after the rap artists, Nicki Minaj, and Meghan Thee launched their collaboration on the album, "Hot Girl Summer," which debuted on the ninth of August.
Saturday's appearance would not be the first time the rappers would twin up on Instagram in their matching tiger skin costumes. The night before, the duo made a live video on Instagram, wearing the tiger print outfit, as they announced that they were working on the music video for their new song.
"We thank you guys for being so supportive and so loyal to us, and we love you and we about to do our thing with this video just to show it to you," Nicki announced via Instagram live.
"The rest of the summer would now be known as Hot Barbie Summer," Meghan Chipped in.
The song was rated number 1 on the iTunes chart, and fans and critics are anticipating the official release. If the Instagram pictures and tiger twinnings going around were anything to go by, then this one would undoubtedly be a summer hit, with enough hotness to go round.
Please fill in your e-mail so we can share with you our top stories!