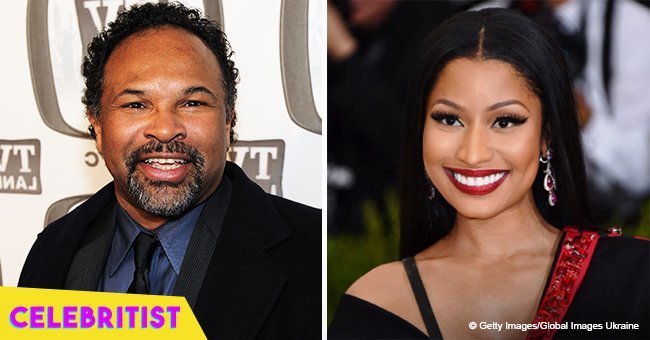 Nicki Minaj reveals she's donating $25K to Geoffrey Owens after he was job-shamed

Nicki Minaj just donated $25k to Geoffrey Owens who recently earned unwanted attention after a woman shamed him for his job. The rapper was furious at the woman and blasted her for being "stupid" while expressing her support for Owens' humble existence.
Nicki Minaj just lived up to her promise of giving Geoffrey Owens a small token of appreciation after the humiliation he recently experienced. She just recently revealed she's donating $25,000 to the former "The Cosby Show" star because he didn't deserve to be treated the way he was.
Owens, who's Hollywood commitments have decreased through the years was recently spotted working behind the counter at Trader Joe's. The shopper who saw him, Karma Lawrence, thought he looked familiar and snapped a few photos of him realizing he was the actor from "The Cosby Show." Taking to social media, Lawrence posted the photos of Owen working as a cashier wearing a Trader Joe's T-shirt and a badge with his name. She recounted her story of spotting him there and expressed her shock that he "ended up as a cashier" and not something different after having been an actor.
When Minaj got wind of the post that went viral, she went on a word rage and blasted Lawrence for doing something "stupid." She condemned the woman for humiliating a hardworking man. In a long message she wrote on her Instagram, she said,
"the internet is so toxic & disgusting!!! This man is a whole LEGEND in these streets!!!! Major part of our child hood!!!! Barbz, find the person who took this pic & uploaded it to the internet. I just wanna talk. They don't want us working in between our acting jobs, they want us on drugs & doing home invasions on THEIR HOMES!!!!!!! That's when they'll be SATISFIED!!!! This man minds his own business!!!! He's not on the internet being messy & seeking attention. Someone GOT PAID for this photo!!!!"
It was then that Minaj expressed her intention to give Owens a token of appreciation for the unwanted humiliation.
This week, Minaj announced on her Beats 1 "Queen Radio" show that she was donating $25,000 to Owens. This comes in the heels of Tyler Perry's tweet inviting Owens to be a part of a drama he was working on at Oprah's OWN network.
Meanwhile, following the shame brought about by Lawrence's post, Owens was forced to quit Trader Joe's because of all the attention. In an interview after the incident, he admitted feeling hurt but was soon relieved by the outpour of support he received from all over. He disclosed he started working at the store 15 months ago in order to augment his earnings from his teaching and acting. He explained the job at Trader Joe's was a perfect fit for him because it provided him the flexibility he needed to still work in the entertainment business.
Though the incident has now made him more popular than he ever was, Owens is hoping it wouldn't be the reason he'd be getting more acting jobs. He hopes to still audition and land roles on his own merit. Owens isn't sorry he worked at Trader Joe's. In fact, he is proud of the life he has chosen to live.
Lawrence has since apologized for her actions and deleted her social media accounts.
Please fill in your e-mail so we can share with you our top stories!