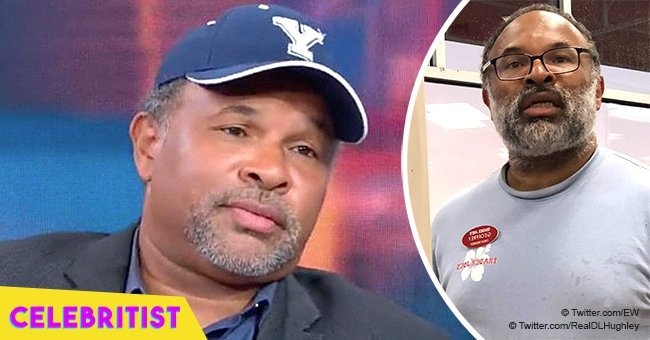 'The Cosby Show' star Geoffrey Owens breaks silence on being shamed for working at Trader Joe's

Geoffrey Owens has finally spoken up after he was shamed for working as a Trader Joe's cashier. Among other things he said during an interview today, the actor revealed he's had to quit the store job because of all the attention.
Owens made a clear statement as he appeared on Good Morning America proudly wearing his Trader Joe's ID badge. The "Cosby Show" star confessed that he was devastated when pictures of him working a cash register went viral on the internet. Thankfully, that did not last very long:
"The period of devastation was so short because so shortly after that, the responses, my wife and I started to read these responses from literally all over the world… and fortunately the shame part didn't last very long. …It's amazing."
The 57-year-old explained that he took the job 15 months ago when his earnings from teaching acting and directing stopped adding up. He chose the store job because it afforded him the flexibility of remaining in the entertainment business.
He thanked everyone who had defended him and offered him "incredible support" during the difficult time:
"It's really overwhelming, in a good way. I kind of feel like that character in that Woody Allen movie that wakes up one morning and he's a celebrity all of a sudden … it came out of nowhere. I really want to thank everybody out there … for the incredible support, the amazing support and positivity that they've shown for me. It's quite astounding."
While Owens agreed that the incident has made him "more of a celebrity" than he's ever been, he said he wouldn't feel comfortable getting an acting job because of the event. He prefers to get one on merit:
"I wouldn't mind getting auditions. I wouldn't mind people calling me to try out for things due to what's happened but I actually wouldn't feel comfortable with someone giving me a job because this happened. I want to get a job because I'm the right person for that job."
He concluded by expressing hopes that his experience will help reshape "what it means to work, the honor of the working person, [and] the dignity of work," and that people will understand that "there is no job that's better than another job."
"No one should feel sorry for me. I've had a great life. I've had a great career,"
He added.
Owens, who famously played the character of Elvin Tibideaux on "The Cosby Show," went viral last week after photos of him working an $11-per-hour job at Trader Joe's hit the internet. The reports sparked an outpouring of support from across the world, with fellow actors taking to social media to share the times they had to take menial jobs.
Please fill in your e-mail so we can share with you our top stories!