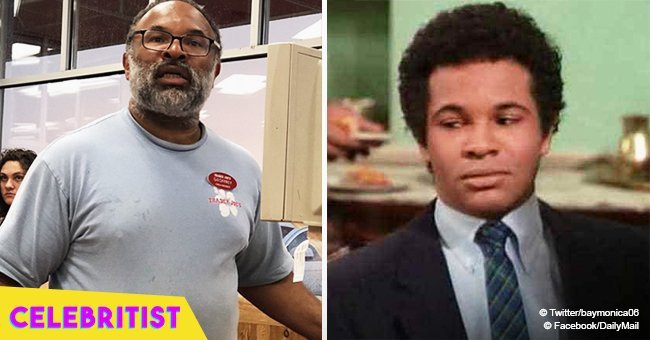 Remember Elvin from 'The Cosby Show'? He allegedly has a low-wage job earning roughly $11 an hour

New photos reveal Geoffrey Owens, famously known for playing Elvin Tibideaux on "The Cosby Show," now working as a store cashier where he earns way lower than what he must have made as an actor.
Owens was spotted on his new job at Trader Joe's in Clifton, New Jersey. The 57-year-old stood behind a till, sporting grey facial hair and wearing a store-branded T-shirt and a badge identifying him as "Geoffrey." He also had on a pair of glasses.
Store customer, Karma Lawrence was on a shopping trip with her wife on Saturday evening when she recognized the actor and took photos of him as he worked. Trader Joe's employees are said to earn an hourly wage of about $11.
Owens played his "Elvin Tibideaux" character on "The Cosby Show" for five seasons. He and his on-screen wife, Sondra Huxtable, thrilled audiences between 1985 and 1992. Lawrence told RadarOnline she was surprised to see him weighing a bag of potatoes:
"I was just in Trader Joe's, and I said to my wife, I said, 'Wait a minute, that's the guy from The Cosby Show.'"
Owens' acting career did not end with "The Cosby Show," but his mother, Ethel, told the publication about how unfairly he was treated in the end. She accused:
"He was the star of the show, but they forgot about him after it went off the air!"
Meanwhile, Lawrence expressed her disappointment at seeing Owens' condition after watching him all those years on TV. She said:
"I would have thought after The Cosby Show he would maybe be doing something different. It was a shock to see him working there and looking the way he did. It made me feel really bad. I was like, 'Wow, all those years of doing the show and you ended up as a cashier.'"
"Other fans would be surprised for sure as well," she concluded.
RadarOnline contacted Owens after the photos emerged and he gave them a list of his recent acting jobs, including teaching a Shakespearean workshop in New York.
After playing Elvin Tibideaux, Owens went on to appear in other series like "That's so Raven" and the 2018 short film, "Fizzle."
Please fill in your e-mail so we can share with you our top stories!