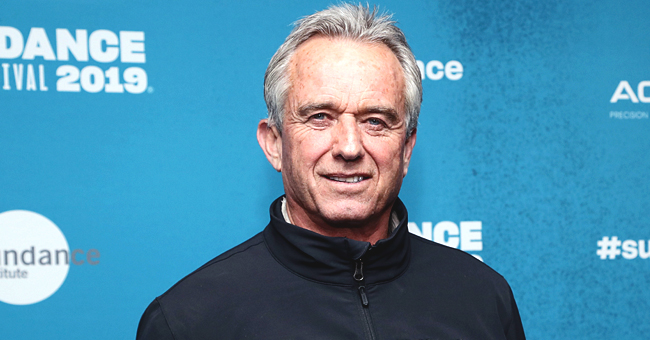 Getty Images
Robert F Kennedy Jr Shares 10 Throwback Photos with the Family in Honor of His Uncle Joseph

Robert F Kennedy Jr. reminded the world of one of the remarkable Kennedy sons when he posted throwback pictures in tribute to his uncle, Joseph P Kennedy.
Robert F Kennedy was in the tributary mood recently when he posted throwback pictures of his uncle, Joseph, on his Instagram page. The photos honored Joseph, who lost his life in sacrifice to his nation.
ROBERT'S POST
The activist posted ten pictures showing significant moments in Joseph Kennedy's life. In Robert's caption to the post, he described how his uncle died while on a secret mission.
The former naval officer (Joseph Kennedy) was piloting an experimental robotic B-24 Bomber which was loaded with explosives into the northern submarine base of the Nazis.
He never got to complete his mission, however, as he died at 2000ft after the plane had exploded while attempting to parachute himself away and over the English coast of Suffolk.
The remaining part of Robert's post caption described each picture, explaining what was happening at the moments they were taken.
Many of Robert's followers who commented on the post thanked him for bringing back such memories, and for always helping others. Some other comments extolled Joseph's virtues, especially the sacrifice he made for his country.
ROBERT KENNEDY JR. PAYS TRIBUTE TO LATE NIECE, SAOIRSE
The Kennedy Family were thrown into mourning lately with the unexpected death of Saoirse Kennedy Hill, who died of a suspected overdose.
The 22-year-old's death has visibly shaken the family as she was a charming personality with a good heart. Since her death, many members of the Kennedy Family have weighed in with various tributes to her, and Robert Kennedy did the same with a touching eulogy to his late niece.
In the eulogy, which he also read at her funeral, he stated that Saoirse had from the very start, possessed a sort of endearing recklessness, which made her life a series of embarrassing predicaments.
Robert also said that his niece always made him laugh every time, as she bore the gift of laughter, a gift she gave to all members of her family. He also lauded her ability to accept herself for who she was, and not wallow in self-pity over her struggles with depression.
The activist also described Saoirse's generosity, something which endeared her to people, and ended his eulogy by describing the last moments before she died.
Apart from being a local environmental activist, Robert Kennedy Jr. is also an attorney and radio presenter. He is married to Cheryl Hines and was previously married twice.
Please fill in your e-mail so we can share with you our top stories!