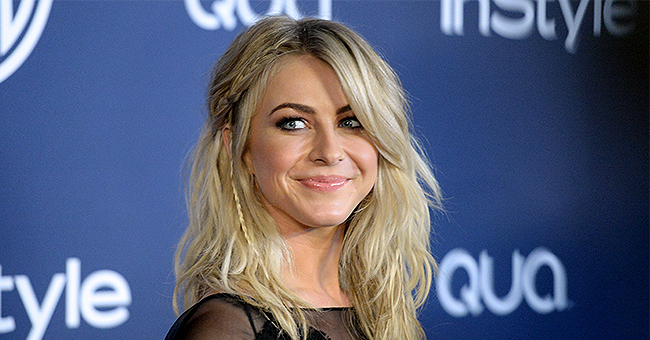 Getty Images
Julianne Hough Shows off Her Legs in a Sparkling Off-the-Shoulder Mini-Dress
Julianne Hough shows off her toned physique while posing with her "America's Got Talent," fellow judge, Gabrielle Union.
During her red carpet appearance at the "America's Got Talent" quarterfinals, Julianne Hough and Gabrielle Union posed together in shimmery, leggy outfits. Hough posted a picture from them night and captioned the pose with her fellow judge:
"Did someone say legs? ? #AGT"
The two stars lit up the red carpet wearing sophisticated up-do's, in short dresses, for the quarterfinals.
Union shared a behind the scenes moment with her 9-month-old daughter, Kaavia James.
Union is married to NBA superstar, Dwayne Wade. A few months ago, the couple welcomed a daughter, Kaavia Wade, via surrogate.
Since airing in May, Hough and Union have joined the "America's GotTalent" judging panel, for season 14.
During the episode, Hough gave an emotional response to Sophie Pecora's performance of her original song, "Happy in LA." A thoroughly impressed Hough tells Pecora:
"I literally don't even know what to say and I think Simon's right, he's continuing to clap. Two things: one, that video package with the lyrics on already brought me to tears so thank you for writing that song. And two, you're speaking to, whether it's a 9-year-old or a 60-year-old, you speak truth. And that's all I have to say, you speak truth. Thank you."
In a comical moment back stage, Hough takes a moment to show off her stunning gress and toned physique. She writes:
"Under construction! ? #AGT"
Recently, Hough came out in an interview, to reveal her husband, Brooks Laich's reaction to her sexuality:
"I [told him], 'You know I'm not straight, right?' And he was like, 'I'm sorry what?" I was like, 'I'm not. But I choose to be with you,'" she recalled. "I think there's a safety with my husband now that I'm unpacking all of this, and there's no fear of voicing thing that I've been afraid to admit or that I've had shame or guilt about because of what I've been told or how I was raised."
Hough and Laich married in 2017, the couple have been very public about how open and supportive their marriage is.
Please fill in your e-mail so we can share with you our top stories!