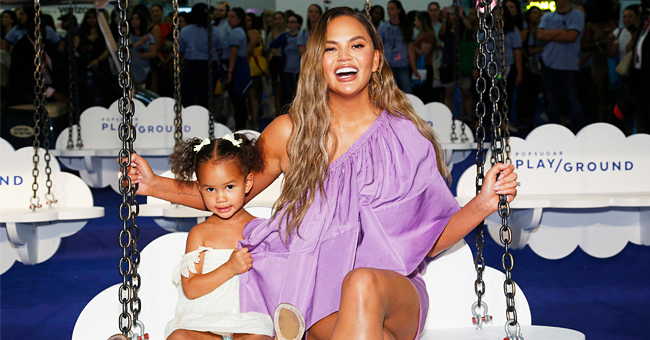 Getty images
Chrissy Teigen Showcases Her Natural Curly Hair in a Recently Released Childhood Photo
Natural curls alert! Chrissy Teigen showed off her natural curls in a cute throwback photo that featured her mother, and the caption that came with it was quite apt.
Chrissy Teigen shared a beautiful and epic throwback photo from her childhood on Instagram. It showed off her naturally curly hair, and the Thai-Norwegian beauty had her mother, Vilailuck by her side.
In the photo, young Chrissy dressed in a pink and yellow polka dot dress. Her mother, wearing Princess Diana's hairstyle, sunglasses, vintage shirt, and blue shorts, equally looked beautiful beside her daughter.
The model aptly captioned the photo, "We came to slay," and her followers saw her daughter's — Luna — face reflected in the picture. John Legend, the TV host's husband, shared the observation, and he commented, "It's Luna."
In another throwback post on Twitter that came with the words, "Excuse my beauty," Chrissy wore short curly bangs, leading one of her followers to reply the tweet with, "Luna with '80s perm."
The "Bring the Funny" judge might have been a cute child with her curls, but these days, she wears straight or loose wavy hair. The natural look, however, comes out to play once in a while, and Chrissy let it loose during her recent vacation in Italy.
In one of her snaps with Vilailuck, the TV host showed off a bit of her cute curls but kept it hidden beneath a scarf when she posed with Luna. Unlike most celebs who attribute switching to different hair colour or style to boost self-esteem, it is not the case with Teigen.
Although the Sports Illustrated Magazine model once struggled with self-esteem issues when she was starting in the industry, her curly locks have nothing to do with it. Instead, her insecurity came from feeling like she was not skinny or tall enough to make it in the industry.
Fortunately for the Utah native, she had people in her life who supported her and continue to do so. Vilailuck and the "Lip Sync Battle" host's father, Ron Teigen, have always been a factor in her life, and the former currently lives with her daughter and Legend.
In 2018, Chrissy explained the living arrangement to Us Weekly. She said Ron lives about 10 minutes from her and the "All of Me" singer's home and comes over to see her mum always. The cookbook author said the arrangement works for everyone, and with two children, she needs her mother more than her dad.
It's great to see that Chrissy and Vilailuck's bond is still active.
Please fill in your e-mail so we can share with you our top stories!