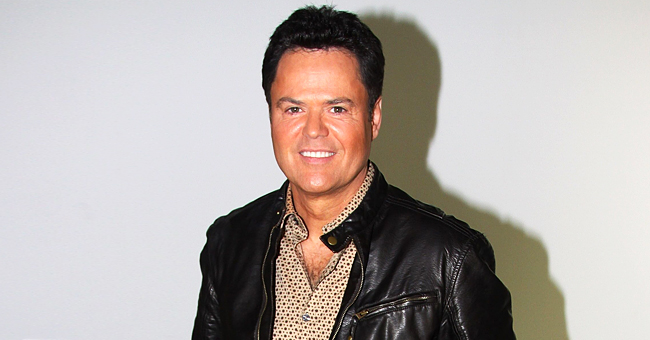 Getty images
Donny Osmond Poses with a Fan That Has His Face Tattooed on Her Shoulder in a Rare Photo

Donny Osmond asked fans to shares pictures they took with him in the past for a special flashback Friday. One person who wore a tattoo of Osmond on her back may have outdone everyone else.
Donny Osmond, 61, is looking back on his lifelong career in entertainment through the eyes of his fans by showcasing pictures he took with them over the years. Last weekend, the singer and dancer shared a throwback photo of himself when he was a young boy as he smiled into the camera. The old school posts from the past week are found below.
"Do you have any old pictures of us?" he asked in the caption. He continued, "This #FlashbackFriday I'd love to see your #throwback pictures of you and me." Osmond said that "one of the greatest highlights of [his] career is meeting and interacting with" fans. He then invited them to post a photo with him along with the hashtag #FBFwithDonny. The fans would also have to tag Osmond and hopefully share the story behind the picture. The Vegas star promised to "call the person who shares the most unique memory or story about their picture."
Fast forward to Thursday, Osmond posted a series of photos containing the fan-submitted throwbacks. "I've been having a fantastic time looking through your #FBFwithDonny photos and posts!" he wrote. In one of the photos, an older Osmond stands next to one of his brunette fans who is turned away from the camera to show her back. There, on her left shoulder blade, was a reasonably-sized tattoo of her idol's face. A smiling Osmond pointed at the quirky inked black and white artwork that showed his face and presumably his signature below it. In his lengthy caption, he showed lots of enthusiasm.
He described it as having his own personal "time capsule with the push of a button!" before encouraging others to search the hashtag #FBFwithDonny and go through the nostalgic pictures. The former talk show host said he wished others could reach out and, like him, have so many "wonderful memories come rushing back to [them]." He went on to thank his fans, calling them the "greatest in the world." The other photos in the post were mostly simple photos of Osmond standing next to his fans. They did, however, remind us that the former game show host has always been up to date with fashion.
One collage photo from a female fan featured her as a young tot holding a Donny Osmond doll box. Below, it showed the more current photo of her standing next to her favorite celebrity. Osmond not only has a great appreciation for his fans, but he's also big on family. Last month, he helped to promote one of his son's latest single by sharing a photo via Instagram. In the post, Osmond said that Chris' song, titled "Calling" is "very special." He explained that the song is a tribute to Chris' late friend Collin Pace, who sadly passed away two months ago.
Osmond also knew the individual, revealing that the deceased spent time at his home and was good company. The song itself is meant to work as a comfort to others who have lost close friends or family. Around the same time, Osmond also
revealed
that he was finishing up with a new song which would come out with the release of his new album. In the caption, the singer let fans in on who his collaborator for the song was. Phillip Pesaisse, who worked on his "This Is The Moment" album previously, helped with the new song's arrangements.
The star also teased the song's title writing, "It's called "F_ _ _ _ _ _ _ _ _ _ _ _ _ _ _ _ _ _ T." He added: "A little #PatSajak moment. Did you really think I was going to tell you the title before it's finished? I don't think so." Fans will never tire of the playful Osmond, who is prepping to do his
last show
run in Vegas with sibling Marie Osmond before the brother-sister duo end their 11-year run. It's a good thing fans have a whole album to look forward to.
Please fill in your e-mail so we can share with you our top stories!