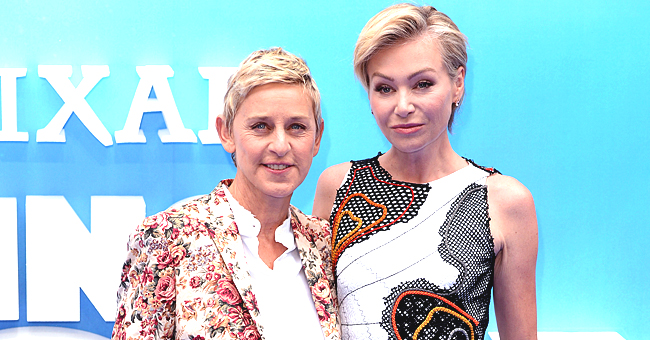 Getty images
Inside Ellen Degeneres and Portia De Rossi's Everlasting Relationship

16th August 2008 proved a remarkable day in the lives of Ellen DeGeneres and her wife, Portia De Rossi. It marked the day the lovebirds tied the knot in a closed ceremony in their home, and since then they have gone on to have a marriage that is both inspiring and everlasting.
In a world plagued by many cases of broken unions and divorce cases, Ellen DeGeneres and Portia De Rossi set a standard for what marriages should be.
Eleven years since they said "I do" to each other, the beautiful couple have lived together in happiness and oneness, and remain a great example to follow.
HOW IT ALL STARTED
In the days after their historic wedding, the couple appeared at Oprah Winfrey's television show to shed more light on their marriage. The interview marked the first Ellen and Portia would have as a couple.
There, Ellen described Portia as the smartest, kindest, and most wonderful woman one could ever know. She counted herself lucky to have had a connection with her.
When Oprah asked Portia when she knew Ellen was the one for her, the model replied by saying that she knew from the first time she saw her.
Ellen also had a similar connection towards Portia when they first met but didn't know if Portia felt the same towards her. The couple didn't act on their feelings for a long time, as gay marriages were not legal at the time.
However, after it became legal, they immediately got married, in a beautiful intimate ceremony in their Beverly Hills residence after dating for five years. The ceremony was attended by nineteen of their closest friends and family members.
THE COUPLE COUNT THEMSELVES LUCKY
In an interview with "PEOPLE," Ellen revealed that she admitted to being grateful for everything that had happened in her life, from her health, success, to the love. The television personality understood that not everyone finds that special person in their life, but said she and Portia felt lucky to find that one another.
Ellen added that they do not take their relationship for granted, and are always there for one another, as they see each other as a priority despite their busy schedules.
Apart from being a television mogul, Ellen is also a star of the hit comic movie, "Finding Dory," which reached great heights in movie ratings; she also owns a lifestyle and fashion brand, ED by Ellen.
Portia, on the other hand, is a successful model, actress, and philanthropist. The couple continues to live together with their three cats and three dogs in their home.
Please fill in your e-mail so we can share with you our top stories!