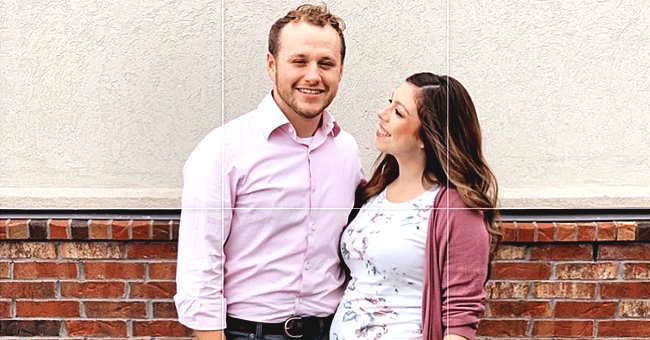 instagram.com/siandlaurenduggar
Lauren Swanson Flaunts Her Pregnant Curves at Church

Lauren Swanson Duggar went a little modern on Sunday by showing off her pregnant tummy on her way to church.
Lauren, 20, shared two photos on Monday and aside from the fact that she and husband Josiah Duggar were perfectly matched with their wardrobe, Lauren also looked extremely curvy.
The brunette beauty who married into the Duggar family is now several weeks into her second pregnancy. Fans were happy to see her all dressed up and still going to church despite the load she has. The post is found below.
To top it off, Swanson wore nude stiletto heels on her feet as she posed next to Josiah, 22. The "Counting On" star wore a light pink button-down shirt and grey formal jeans. He had brown Mocassin shoes on his feet.
As for Lauren, she adorned a tight-fitting flowered white dress that hugged her tummy before loosening out to her knees. She opted to put a dark pink overcoat on.
In the first picture, Josiah's wife of a year and a half looked up at him as he smiled at the camera. The second picture showed Josiah kissing Lauren as she hugged her tummy.
The pair stood in front of a short brick wall in the pictures. The caption read: "Happy Sunday!" The colors chosen are also indicative of the sex of the baby the couple expects to welcome this fall.
Josiah and Lauren revealed in June that they held a small gender reveal party with close family. Attendees were given balloons and whichever held blue or pink would give away the baby's sex.
A hidden balloon carried by Lauren's sister Lily was the actual reveal — and it was filled with pink confetti. The celebration starkly contrasted the devasting news shared earlier that Lauren had suffered a miscarriage of her first child.
Back in May, the couple opened up about their tragic loss while at the same time announcing the second pregnancy. They also shared the story of the night they learned of the big news.
In a video on the family's blog, Josiah said he was so sure that his wife was pregnant that he ran off to the store at 4 a.m for a pregnancy test. He was right. The pair cried happy tears that night, "thankful for another sweet blessing."
In a subsequent interview, the pair said: "We cannot begin to tell you how much we are looking forward to holding this baby in our arms this fall. Every good and perfect gift is from above and we are looking forward to this new season of parenting together!"
Josiah and Lauren join several other Duggars who are expecting this year. Jessa Seewald, Kendra Duggar, Anna Duggar, and Joy-Anna Forsyth all have babies on the way as well. We pray that they all deliver safely.
Please fill in your e-mail so we can share with you our top stories!