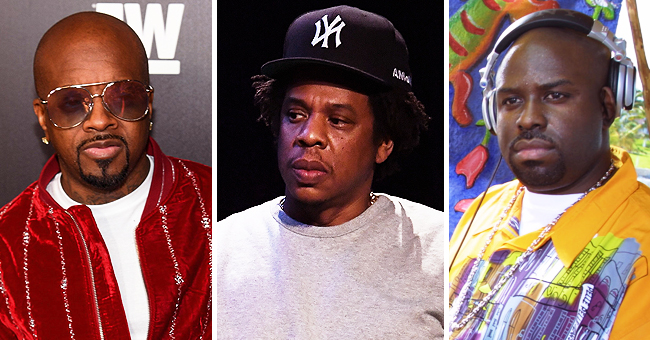 Getty Images
Funkmaster Flex Claims Jay-Z Allegedly Told Jermaine Dupri Not to Get Involved with NFL

Brian Michael Cox claims Jay Z hindered Jermaine Dupri from signing a deal with the NFL last year, now taking the job himself.
Jay-Z's entertainment company, Roc Nation, entered a deal with the NFL as their "live music entertainment" strategist, and the controversial news made headlines.
The latest news on the deal is Brian Michael Cox or Funk Flex, revealed that Jay-Z called Jermaine Dupri up to stop him from making a similar deal with the league last year.
A Subtle Betrayal
It turns out, Jay-Z asked Jermaine Dupri how deep he is in the planned deal with the NFL, suggesting that it might not be a good idea to push through with it.
In the end, Jermaine didn't end up doing the deal, and here comes Jay-Z, putting the plan into action.
While everyone thinks it's an insult for Jay-Z to enter the deal following the recent issues with the league, some seem to think there's more to it than what meets the eye.
Analyzing Jay-Z's Motives
To them, Jay-Z is trying to slowly infiltrate the league to make sure the Black community is given added priority and protection. To others, it is simply another business deal for the billionaire.
However, what Funk Flex was trying to point out, was that Jermaine Dupri got a beating for doing the same thing a year ago, while Jay-Z seems to be getting it way easier.
To add to that, Flex claims that Dupri was not paid as much as how they're about to pay Jay-Z.
Heavy Surveillance of the Move
In the comment section of his Instagram post, he also wrote that this move by the Roc Nation team will be heavily monitored by him and his peers.
"If Jayz saw what we all saw in the press conference and feels working from the inside while being paid and receiving a 'stake' in a team is the answer and can spearhead social justice from the inside he is our HERO for life!!!! BUT if he and the air personalities/social media influencers that Rocknation manages or wants to be managed by them have spun the 'believe in Jayz… give him a chance' campaign to line pockets… this will be remembered and NOT swept under the rug in a few months! TRUST!"
In the end, they all want the same thing: social justice.
Please fill in your e-mail so we can share with you our top stories!