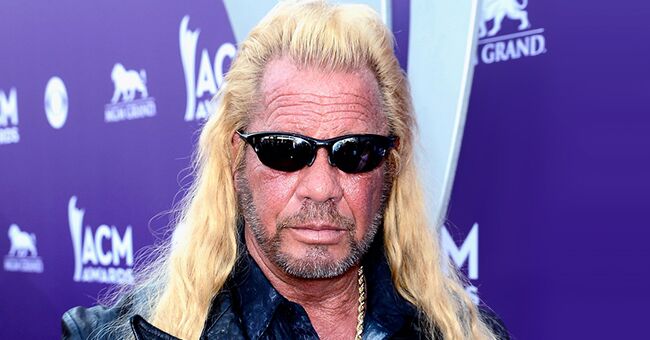 Getty Images
Dog the Bounty Hunter Shares Feelings about Passing since Losing His Wife Beth
Duane "Dog" Chapman is still in the process of grieving the death of his wife, Beth Chapman, but shared how he's been feeling about her loss.
It's been two months since Beth Chapman's death and her husband, Duane "Dog" Chapman, is still hurting. If there's one thing her death brought, it's his courageous outlook on death. The actor shared:
"I told my camera crew after she [passed], 'If something happens to me, you'd better get that shot.' They're like, 'Boss, we will.' I'm not afraid to die now, because I know where I'm going and who I'll get to see again."
Beth left the world in June after battling throat cancer for several years and just before the upcoming premiere of their new reality series, "Dog's Most Wanted."
Although the Chapman matriarch is no longer with the bounty hunting team, she will always be remembered.
"I'm not afraid to die anymore," he said. "Here I come, Bethy." He added, imagining her, welcoming him in a garden saying: "Big Daddy, it took you a long time."
Chapman shared his recent experience catching a fugitive who escaped in a place not familiar to the team. The bounty hunter took a moment to pause and talk to his wife.
"'Beth, please. Where is he?'" Chapman said. "All of a sudden, I heard [team member] David and Leland yell, 'We're on him again, boss.' I told David, 'Oh my God, she's watching.' David said, 'We have an angelic drone.' I feel her all the time."
While filming for the show, Chapman only had his wife in mind, thinking how proud she would have been to make an arrest. He knows that even though she is not physically present, she is still spiritually with him.
Beth had two memorials after her passing: one in Colorado and another in Hawaii. Both are dear places to her heart as she grew up in one and resided in the other after she married.
Her ashes were spread in the Hawaiian waters during her funeral, as she wished before she died. Many fans came to celebrate her life and mourn her death.
Please fill in your e-mail so we can share with you our top stories!