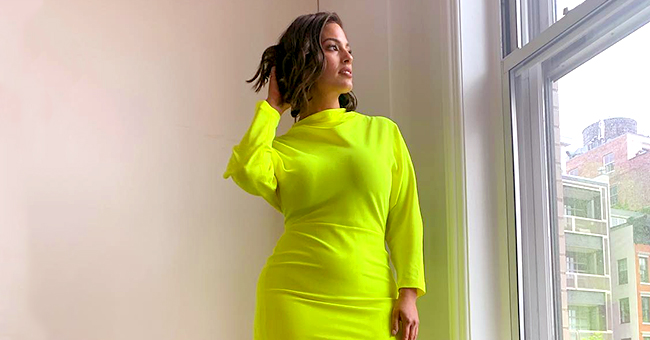 Instagram/ashleygraham
Fans Praise Pregnant Ashley Graham for Boldy Showing Her Stretch Marks
Ashley Graham shows off her glorious baby bump, stretch marks and all.
Ashley Graham has been forcing the world to redefine the concept of beauty with her lush-figured sensuality, and now she is doing it again.
Ashley proudly posted a photo of her stretch marks on an Instagram post, once again encouraging women to view their bodies positively.
"same same but a little different" Ashley Graham
STRETCH MARKS ARE BEAUTY MARKS
Plus-sized model Ashley is pregnant with her first child, and she is glorying in every moment, and every change it brings to her body.
Yes, including the dreaded stretch marks, and she's proved it by posting a photo that shows them off, and her voluptuous body, in all their glory.
Ashley shows women a real pregnant body, and they reacted with enthusiasm
A PORTRAIT OF TRUE BEAUTY
The photo shows Ashley's waist and hip, while her beautifully manicured hand covers her breast. The stretch marks which are a natural consequence of the skin stretching during pregnancy are very evident.
The photo evidently struck a chord and garnered over a million likes on the first day.
PRAISE FLOODS IN FROM WOMEN FROM ALL OVER THE WORLD
In a world where social media rules and every celebrity has their every photo photoshopped to perfection, Ashley shows women a real pregnant body, and they reacted with enthusiasm,
"Thank you for posting this picture and showing people stretch marks are beautiful, it helps me❤️?"
CLICK TO ACCESS ASHLEY GRAHAM'S POST
ASHLEY GRAHAM'S ACTIVISM FOR BODY POSITIVITY
Ashley has always been very vocal about her view on body size, and has actively promoted self-acceptance in other women,
She has spoken openly about the image society and fashion imposes on women as desirable, and she has broken free from such expectations.
"My body has always been treated as a thing and not mine. It was always about what others thought about my body until I gained a voice. Now I get to tell people what I think of my body," she said.
Thank you, Ashley Graham, for once again making us all look at ourselves in a new way, and seeing the beautiful women that we are.
ASHLEY GRAHAM ANNOUNCES PREGNANCY
Lush beauty Ashley Graham and her husband, Justin Ervin announced that they are expecting their first child together on August 14, 2019.
The announcement was made through an adorable post on Justin's Instagram in which the happy couple can be seen holding up an ultrasound.
"To my forever love and my daily inspiration. Happy anniversary @ashleygraham These 9 years have played out like a lifetime. I guess it's because my life really started once you came into it. Now that we've made a life together, let's make a life together. I love you and I love us. All of us..." he wrote.
The announcement came by happy coincidence on the couple's 9th wedding anniversary.
Congratulations, Ashley Graham!
Please fill in your e-mail so we can share with you our top stories!