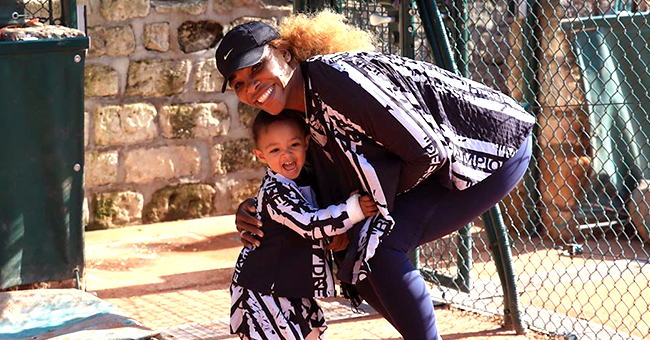 Instagram/serenawilliams
Serena Williams' Fans Defend Her Daughter after Critics Slammed Olympia's Hair in New Video

It seems like there is nothing some mothers can get right when it comes to their child. That is the case of mom-of-one, Serena Williams who recently suffered backlash over her adorable daughter, Olympia's hair.
Thanks to social media, most people have unlearnt how to mind their business. TheShadeRoom recently shared an adorable clip of Serena having some amusement park fun with her baby girl.
In the video, Serena and her baby were at an amusement park, and as the mother of one suggested, Olympia seemed uninterested and probably even wanted to go home.
However, many decided to disregard how cute the mother-daughter duo looked in the clip and focus on the little darling's hair, which, according to them, was unkempt. Most people shamed the Tennis star for taking her child out with her hair so messy. Comments like:
"Please put some coconut oil in that baby's hair" "too much money for her hair to not be done" flooded the Instagram page.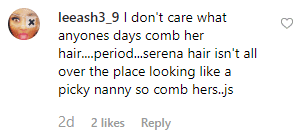 Comments on TheShadeRoom's post | Photo: Instagram/TheShadeRoom
@ms.harlembrown_2000 wrote,
"Y'all act like Serena has taken the best care of her own hair what do you expect her to do with her daughter's hair ???"
Although there were lots of backlashes, many were also swift to defend the mum of one saying there is nothing wrong with the baby's curly hair which according to then was in its "natural state."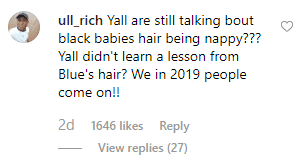 Comments on TheShadeRoom's post | Photo: Instagram/TheShadeRoom
@boogprinzz wrote,
"Y'all always got something to say about a child's hair!!Her hair is in its natural state and nothing is wrong with it."
Another fan of the tennis star wrote,
"there is nothing wrong with that child's hair, y'all are so miserable."
This is not the first time the "mommy shamers" will be going after Serena for something she did or didn't do concerning her adorable baby.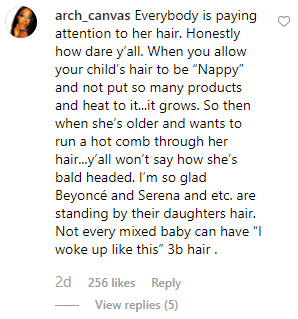 Comments on TheShadeRoom's post | Photo: Instagram/TheShadeRoom
During an interview where Serena referred to her daughter as a "wild child," she detailed how she's dealt with mommy shamers over time. The Tennis champion who isn't new to backlash stated that she has learnt to shake them haters off. She said,
"Everyone has a critique nowadays," she says. "I've been getting critiqued my whole life. At the end of the day, everyone can have an opinion. I'm not going to tear down someone's opinion. But I try to personally have positive opinions."
Contrary to the shamers' belief, Serena in fact takes care of her daughter's hair. In an Instagram post, the mom of one shared with her fans an intimate session where she was braiding Olympia's hair. In the caption of the adorable image, Serena wrote about how much she enjoys styling her baby's hair because it allows her bond with her child.
So as you can see, shamers back off!!!
Please fill in your e-mail so we can share with you our top stories!