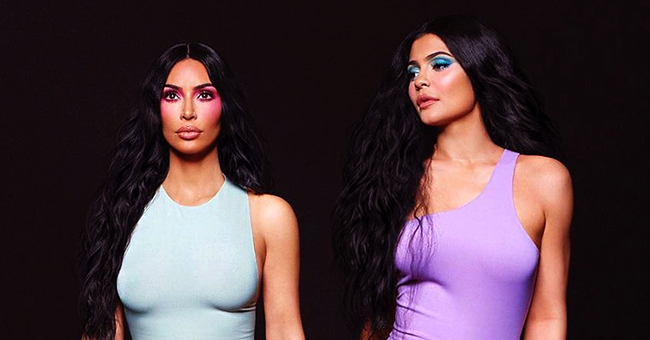 Instagram/kimkardashian
Kim Kardashian and Kylie Jenner Seem to Have 6 Toes in New Photo and Fans React
It is hard to keep up with the Kardashians! This week Kim posted an image of herself and her baby sister, Kylie Jenner while promoting their new fragrance line, and fans were quick to notice some bizarre detail about their body.
Kim Kardashian West and her sister Kylie Jenner have been trending on Instagram after suffering another suspected Photoshop fail. The 38-year-old "keeping up with the Kardashians" star shared a picture of herself and her half-sister Kylie, 22, on Instagram to promote their perfume collaboration.
"Kylie's favorite is the nude bottle, I think mine is the pink! She's been wearing my perfumes forever so this collab is extra special because I know how much she loves the process. Finding her perfect scent was impossible so we narrowed it down to her three favorites! Kkwfragrance.com Aug 23rd." Kim captioned the photo.
In the picture, Kim and Kylie posed side by side, and they both wore a one-legged light blue and purple bodysuit, respectively. The image appeared to be perfect until fans zoomed in and Kim seemed to have a sixth toe on her left foot.
Kim's followers took to the comment section, but not to congratulate the mother of four on her new fragrance launch. They were more interested in making jokes about the alleged photoshoot fail.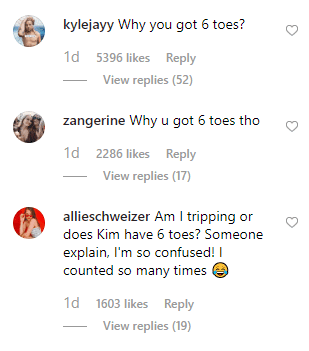 Comments on Kim Kardashian's post | Photo: Instagram/KimKardashian
One "confused" person asked,
"Am I tripping or does Kim have 6 toes? Someone explain, I am confused! I counted so many times."
Another fan wrote,
"Go back to [a photo on] Aug 11 photo and she only has 5 toes. How do you mess up so badly by editing on a 6th toe"
A third commenter wrote,
"ummmmm didn't know arms went that way and didn't know Kim had six toes." and so many more mocking comments.
According to a close source to the Kardashian sisters, the photo was not Photoshopped, and the sixth toe was just an optical illusion. The source told "Page Six" that the oblique angle of Kim's feet led to the illusion that there are six toes on her left foot.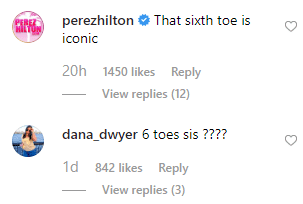 Comments on Kim Kardashian's post | Photo: Instagram/KimKardashian
This is not the first time the Kardashian-Jenner clan has been accused of using the popular app to enhance their photos, and it will take a lot more than the "optical illusion" explanation to convince their fans. Kim hasn't spoken out about the Photoshop accusations, and it's not guaranteed that she will.
Kim's KKW Beauty campaigns posts have often been under fire for photoshop. In a recent campaign post for her' 90s-inspired collection, the reality star was photoshopped so much, she looked like another reality TV star, Toni Braxton.
Please fill in your e-mail so we can share with you our top stories!