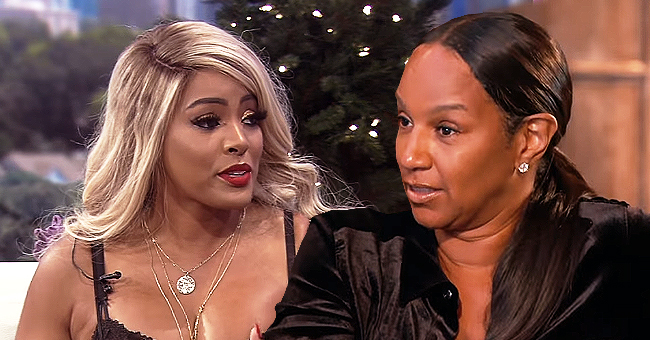 Youtube/Sister Circle TV Youtube/VH1
Jackie Christie Says Malaysia Pargo's Aunt Hit Her during Skating Rink Incident in BW Trailer

"Basketball Wives" star Jackie Christie has accused fellow co-star Malaysia Pargo's aunt of physically assaulting her.
Episode 9 of "Basketball Wives" Eighth Season saw things get heated between Jackie Christie and Malaysia Pargo.
It happened that Christie was accused of spreading rumors about Malaysia's Family to other castmates.
According to Christie, the news originated from Jennifer Williams, but it seems Christie played a significant role in spreading it as she told multiple people in Atlanta.
Unexpectedly, Malaysia found out about it and confronted Christie at Kristen skate's party.
That was when they got into a physical row with each other.
Towards the end of the episode, fans saw Jackie launch a chair at someone, and things were berzerk between her friends and Malaysia's family members.
In a new preview clip of episode 10 uploaded by VHI on YouTube, Christie gisted her friends OG Chijindu and Cecelia Gutierrez about the fight.
That was when she dropped the bombshell that one of Malaysia's aunt hit her in the head. However, she mentioned that she wasn't sure of the relative hit with a purse or just her hands. In her words:
"They're dragging me to the door to leave, this girl comes up and hits me on the side of the head; this older lady. It was one of her aunts. She might have had a purse. I don't know. Aunt hit me! I'm thinking — all I did was go black."
MALAYSIA'S FAMILY DENY ABUSE ACCUSATION
While Jackie is sure that one of Malaysia's family members jumped her, her co-star's family has denied all accusations.
One of her cousins, named Meico, took to Instagram to share a photo of the family during the skating party with a caption that read:
"DO WE LOOK LIKE GANG BANGERS WHO WAS SUPPOSED TO HAVE JUMPED JACKIE? Keep kids out of your mouth... Im the one who fell tripped and hit my head and hurt my knee."
Episode 10 is sure going to be explosive, and we can't wait to see what truly happened!
Please fill in your e-mail so we can share with you our top stories!