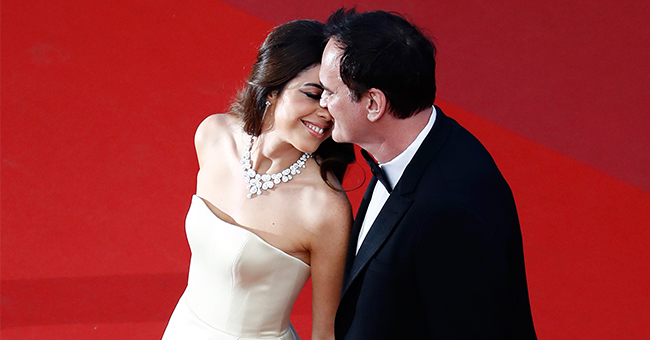 Getty Images
Quentin Tarantino, 56, Expecting His First Child with Young Wife Daniella, 35
Quentin Tarantino will finally know the joys of parenthood as he and his wife, Daniella, have recently announced that they are expecting their very first child.
It has been reported that the couple made the announcement in an exclusive statement to People Magazine and that they are very delighted for being able to welcome this child into the world.
The acclaimed filmmaker met Daniella back in 2009 while promoting the film "Inglorious Basterds," featuring Brad Pitt, Diane Kruger, and Christoph Waltz.
WHEN DID THEY GET MARRIED
Tarantino, who is currently 56 years old, only started dating Daniella, the daughter of Israeli singer Tzivka Pick, years later and got engaged in 2017 after being in a relationship with her for about a year.
They had a very intimate wedding, which took place in Los Angeles in November 2018. Their nuptial outfits were quite traditional but stunning, especially the bride's.
DRESSED TO IMPRESS
Daniella's wedding dress was completely white and had a sweetheart neckline that exposed quite a lot of skin. She complimented the look with a white veil and a tiara.
Tarantino, as aforementioned, didn't stray from what a groom is expected to look like, donning a very elegant black suit and tie. In one of their best photos, the couple posed for the camera in front of a wall of flowers.
THE BRUCE LEE CONTROVERSY
But despite being over the moon about the upcoming child, Tarantino hasn't been having the easiest of times. In the past few weeks, the director was severely criticized for his movie "Once Upon a Time in Hollywood."
The attacks came from Bruce Lee's daughter, Shannon, who considered the "caricature portrayal of her father" an insult to his memory and legacy.
During a press conference to promote the movie, the 56-year-old referred to Lee as an "arrogant person" who said he could beat up boxing legend Muhammad Ali.
However, Shannon claimed that her father was not an arrogant boaster like he was portrayed in the film and that he had to work thrice as hard for what he accomplished due to the great amount of racism he found in Hollywood.
Please fill in your e-mail so we can share with you our top stories!