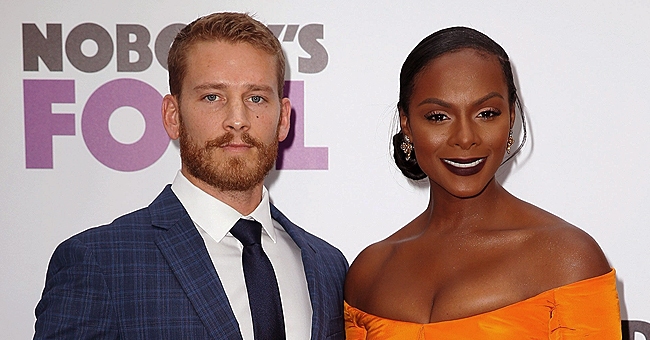 Getty Images
Meet Tika Sumpter's Actor Fiancé and Father of Her Daughter, Nicholas James

Tika Sumpter is happily engaged to the father of her daughter, Nicholas James. But much is not known about the man who stole the heart of the "The Haves and The Have Nots" star.
Tika Sumpter's daughter, Ella-Loren's father, Nicholas James, lives a very private life like the woman he is engaged to. There is little information about him, but he is an established actor with TV and movie credits to his name.
Although he does not have any box office hits, James has starred in low budget movies like "Fired Up," and "Prom Night." The actor also appeared in "NCIS: New Orleans," and the Tyler Perry OWN original series, "The Haves and The Have Nots."
James and Sumpter met on the set of the later, and as the actress recounted on "The Wendy Williams Show," they went for a drink after shooting and soon hit things off. Soon after, before the world even knew they were together, the TV star discovered she was pregnant.
After discovering she was expecting, Sumpter stayed away from the spotlight. She hid her pregnancy from everyone and didn't reveal it until she was seven months gone. The actress later explained it, as,
"Social media can be harsh, and I didn't want people to ask who the baby's father is."
The mum-of-one added that when it comes to her family, she is a mother bear and would protect them from everyone. She proved it when some trolls on Twitter criticized her dating a white man.
The actress responded that she does not owe anybody any explanation, and wished the trolls luck in finding the type of happiness she has. Sumpter is ecstatic about being with James, and when it comes to their long engagement, she once said,
"Our relationship is not dependent on a ring. I love him to death, and he loves me to death, and that's all that matters."
The two got engaged during 2017 Christmas holidays. James surprised the mother of his child by creating a surprise hunt for her around their home. In the end, the actor gave her a note in the hands of their daughter, and in it was a handwritten proposal.
Sumpter said yes, and they've been living their love story ever since. The couple continues to keep things private, but once in a while, they share their love with their social media followers, and it's mostly sunshine and rainbows.
Please fill in your e-mail so we can share with you our top stories!