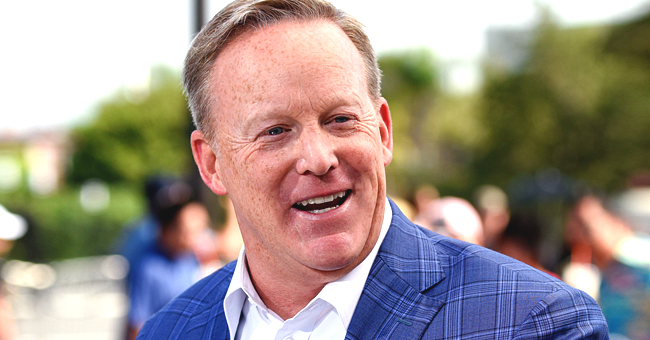 Getty images
Sean Spicer's DWTS Casting Draws Calls for a Boycott from Fans
Sean Spicer will join the new celebrity cast of "Dancing With The Stars" for its next season. The move left several fans not only enraged but had them calling to boycott the show.
Sean Spicer, the former Press Secretary to President Donald Trump, will appear in season 28 of ABC's competitive celebrity show "Dancing With the Stars" in September.
The decision prompted a lot of backlash from fans, many of which are opposed to the Trump administration and more specifically to Spicer's role in it before he resigned in 2017. Reactions are found below.
Fan reactions
The backlash prompted the hashtag #BoycottDWTS on Twitter, and a slew of insults came with it. "I'm not only #BoycottDWTS, I'm also #BoycottABC. Until they remove that liar Sean Spicer, I'm not watching anything on ABC," wrote user Kelly Pond.
Fans are loudly against the idea of political figures making their way onto the show, but Spicer isn't the first. Season 11 of DWTS saw Sarah Palin come in at third place.
Way back in season 9, former House Majority Leader Tom Delay also appeared on the show. He didn't stay long, leaving soon after the premiere after receiving a doctor's advice.
History repeats itself. People are unforgiving of what they believe Spicer has done. User Sue Schwer wrote: "#BoycottDisney because of #BoycottDWTS because they are putting on the third biggest liar in the country."
"No no no no no no. He doesn't get to lie to the public and dance the night away. No! #BoycottDWTS."
There are those who still plan on tuning in, however. User Thomas said that despite his hatred of Spencer, he's still watching the show which he's viewed since 2007. Instead of boycotting, he'll be supporting his favorite cast members and will simply ignore Spencer.
User Becky Johnson saw a wider picture. She considered it terrible for ABC to put their "performers and crew" in a position where they have to work with Spencer — "who hasn't an ounce of integrity."
Karomo Brown's response
Two others involved with DWTS have come out with differing takes on the matter. Karomo Brown, 38, of "Queer Eye," shared his views. Fans criticized the contestant's views for being too accepting.
Brown, 38, was quick to clarify that he had no input in who joined the cast of the show. In a since-deleted tweet, he reportedly said he was "excited to sit down with [Spicer] and engage in respectful conversations."
According to Brown, the "only way things get better is if we try to educate those who have different [points of view] than us." This did not sit well with some fans.
People saw it as being passive, with more outraged reactions pouring in when an interview of Brown saying Spicer is "a good guy [and] a really sweet guy" emerged.
User Cal who defended Brown said he "allows [peole like Spicer] the space to be a good person by seeing the good as well as the bed," but his viewpoint was highly debated.
Steven A said "there is no meeting in the middle with this" before insisting that Spicer "is not a good guy." He accused Brown of selling out and choosing "fame and money, over morality."
Host Tom Bergeron's response
Host Tom Bergeron also reacted to the former Press Secretary's appearance with a statement addressing the issue. Bergeron revealed that he made suggestions months ago for season 28.
"Chief among them was my hope that DWTS [...] would be a joyful respite from our exhausting political climate and free of inevitably divisive bookings from ANY party affiliations."
Bergeron thought there was agreement after what was discussed, but clearly, the final decision went "in a different direction." It wasn't his call, and he hopes fans will still tune in "for a two hour escape" from life's problems, he said.
Bergeron's attempt at a neutral attitude did not appease fans. "Normalizing people associated with this administration is complicity. We are living in a different climate that requires courageous action. Not business as usual," Emily A wrote.
Spicer's take
Spicer also responded to the backlash of his inclusion on the show. Speaking to the Hollywood Reporter, he said he hopes to have a "politics-free zone." Again, fans were quick to denounce the former political head.
In direct response to Bergeron's statement, Spicer said:
"My hope is that at the end of the season, Tom looks back on this and realizes what a great example it was of being able to bring people of really diverse backgrounds together to have fun with each other, engage in a real civil and respectful way and maybe show millions of Americans how we can get back to that kind of interaction."
In line with Brown's sentiments, Spicer mentioned that he and the other cast members have so far "hit it off." He further confirmed that while he's on the show, he'll still be doing political work. Currently, Spicer is an advisor to the America First Political Actions Committee, a pro-Trump organization.
Details of Season 28
For those viewers who will not be boycotting the show this season, they can tune in to watch on ABC on Monday, September 16 at 8 p.m ET. Len Goodman, Bruno Tonioli, and Carrie Ann Inaba are set to return as judges.
As for the cast, we'll see Hanna Brown from "Bachelor and Bachelorette," James Van Der Beek of "Dawson's Creek" and "Pose," Kate Flannery from "The Office," and Kel Mitchell, an actor and comedian.
Singer and songwriter Lauren Alaina, former Fifth Harmony member Ally Brooke, model Christie Brinkley, and the Supremes singer Mary Wilson are also set to hit the stage. Former linebacker Ray Lewis and NBA star Lamar Odom will join them, as will Spicer and Brown.
Please fill in your e-mail so we can share with you our top stories!