Jinger Duggar's Husband Jeremy Agrees with Fan They Should Have Their Own Show on TLC
On Wednesday, "Counting On" star, Jeremy Vuolo took to social media to share a lovely picture of his wife. A fan commented on the post pitching for the pair to have their own show.
A fan who follows Jeremy Vuolo on Instagram recently commented on a post by the reality star. The image featured Jeremy's wife, Jinger (Duggar) Vuolo, posing with a donut at the Board House Coffee.
The fan commented by pitching a spin-off for the reality stars. The premise of the show would feature the Vuolos tasting "delicious new foods."
Jeremy responded to the fan in agreement to the suggestion and even tagged TLC in the response. TLC is the network that hosts the reality show "Counting On," which features the Duggar family.
The fan's message probably caught Jeremy's attention because more than 300 people liked it. Clearly, the idea seemed like a good one to the reality stars other fans.
The suggestion from the fan could actually work since the Vuolos now live in Los Angeles. The rest of the Duggar family members live all the way in Arkansas.
Jeremy captioned the picture of his wife: "The only thing sweeter than this donut...is the lovely lady enjoying it … @jingervuolo." The Vuolo's fans appear keen on them getting their own show.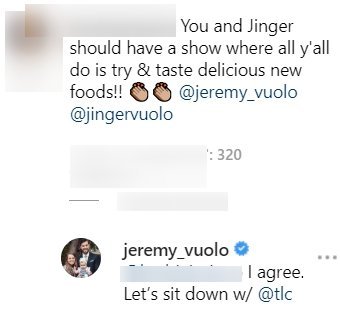 In July, Jinger shared an adorable photo of her husband at a shopping district in Glendale, California with their daughter Felicity, 1. A fan commented: "I wish TLC would give you guys your own show."
The couple revealed in March that they were moving from Texas to Los Angeles. The move occurred so that Jeremy could attend Grace Community Church for graduate studies at The Master's Seminary.
Despite not having their own show (yet), the couple has amassed their own fan-base. The Vuolo family has been engaging their fans by posting question and answer sessions on Instagram.
Last week, they shared the second episode of their homemade show on Jinger's Instagram page. The latest image featured their daughter playing with a toy puzzle box for "10 minutes straight" as she intently tried to figure it out.
While the Vuolos contemplate having their own show, the other Duggar women are showing off their baby bumps. On the same day, Jeremy shared the photo of his wife a pregnant Amy Duggar King, posted an image featuring her cousins' wives.
King was seen posing with, Lauren Swanson Duggar, Abbie Burnett Duggar, Anna Duggar, and Kendra Caldwell Duggar who are all currently pregnant.