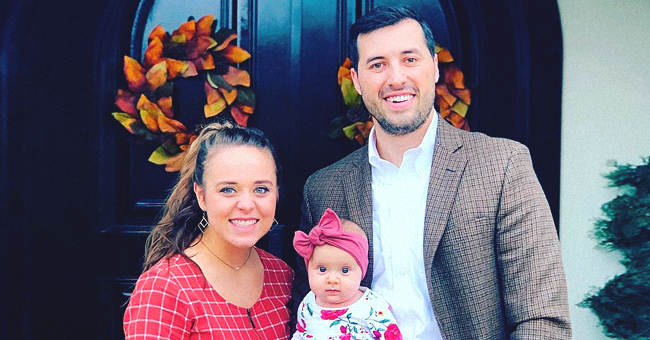 instagram.com/jingervuolo
'Counting On' Fans Have Reasons to Think Jinger Is the Only Happily Married Duggar

Fans of "Counting On" think that the only genuinely happy couple in the Duggar family is Jinger and Jeremy Vuolo, and they have some reasons to believe it.
The Duggars, who rose to fame through reality shows portraying how Jim Bob and Michelle raised their 19 children, are a very traditional and conservative family, so much so that they don't date, they court.
In most cases, the patriarch is the one who chooses the man who would enter into a courtship with one of his daughters and, after spending some time knowing each other, they would tie the knot and start having children.
"Out of all of them I think Jinger has the happiest marriage," admitted a fan.
A DIFFERENT LOVE STORY
However, Jinger and Jeremy's love story was completely different. They were introduced through Jessa and Ben Seewald, who met Jeremy during a trip to Texas. When he and Jinger met, they felt an instant connection.
Even though their relationship was not set up by Jim Bob, he had no choice but to accept their courtship and, after only one month, Jinger and Jeremy got engaged. After getting married, they chose to do things differently from the rest of the Duggars.
DOING THINGS DIFFERENT
Apart from moving to Laredo, Texas, she opened an Instagram account, began wearing pants and shorts, moving to Los Angeles, and didn't have children up until July 2018, when the couple welcomed to the world Felicity Nicole.
"Counting On" fans took to Reddit to talk about their relationship, suggesting that it was the only authentic one as Jinger and Jeremy fell in love more conventionally, and even saying that they are the only happily married couple among the Duggars.
"Out of all of them I think Jinger has the happiest marriage, and Jessa seems to be doing ok considering her husband saw her on TV and celebrity stalked her into courting," wrote one of the Reddit users.
HER ALLEGED FEUD WITH JIM BOB
Ever since Jinger left the Duggars' household, some people believe that her relationship with her father has been getting fragile due to all the rules she broke after moving with Jeremy.
However, once she married her husband, Jeremy became the only person in charge of the restrictions, including the ones involving her wardrobe, access to social media, and more. Speaking of clothing, Jeremy made clear his point of view on that aspect during a sermon in the Spring of 2017.
"It is your liberty as to whether you dress modestly with a modest pair of pants, or with a skirt, or with a T-shirt, or with a blouse. It is not your liberty, women, to wear sensual, seductive clothing that is designed to draw the attention of your brothers."
At the moment, Jeremy and Jinger Vuolo are enjoying their lives parenting their daughter Felicity.
Please fill in your e-mail so we can share with you our top stories!