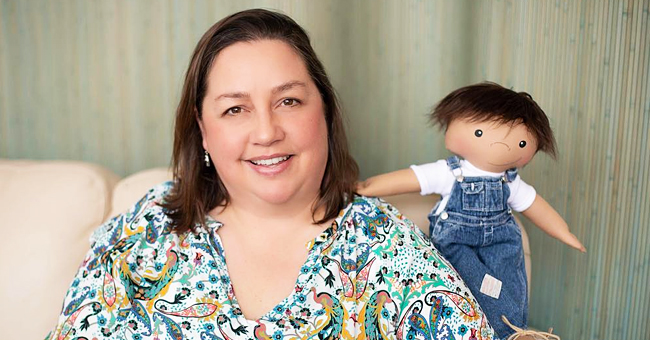 instagram.com/a_doll_like_me
Amy Jandrisevits Sews Customized Dolls for Children with Physical Differences
A woman from Wisconsin is making the world a happier place in her little way. Amy Jandrisevits used to be a social worker in a pediatric oncology unit, and her experiences with kids spurred her to create something unique enough to bring smiles to their faces.
Amy Jandrisevits is one woman who is passionate about making children smile, and an experience she had with a woman whose daughter's leg was amputated gave her an idea that would turn into a passion.
Buoyed by the outcome of that experience, Amy began making unique dolls for children with varying health conditions.
A DOLL LIKE ME
Right from time, Amy Jandrisevitis, 46, has always shown compassion towards the needs of children, and this innate passion drove her into becoming a social worker at a pediatric oncology unit in the 1990s.
There she noticed that children with surgical scars, bald heads, or different health issues had no cabbage patch dolls. Years later, Amy left her job at the unit and became a doll maker.
In 2015, a mother whose daughter had lost a leg to amputation approached Amy to make a mini-me doll for her child. Amy did just that and posted a picture of the doll on Facebook.
In months, she had dozens of orders asking for look-alike dolls for children with different health conditions. This year alone, she has designed close to 400 custom-made dolls.
Her workplace is her dining room, and she chooses to make the dolls personally, with some help from her mom and her friend. Thus, she has a pile load of orders waiting to be completed, though she gives terminally ill kids more priority.
AMY WANTS TO DO MORE
Amy's passion for bringing smiles to kids' faces is clear to see, and she is gaining attention. She featured in PEOPLE magazine's latest edition where she confessed to wanting to do more for the kids and their families.
She noted that children feel isolated and judged because of their differences, but with the dolls which are mini-versions of them, they understand they are not the only one with differences and know they are beautiful enough. Her dolls cost $100 to make, and she understands that not everyone can afford it.
Hence, she covers the cost for parents that cannot pay, She believes that happiness should not be paid for, and thus started a GoFundMe and a non-profit website to raise funds for donors to sponsor dolls for those who can't afford it.
Amy's work is bearing fruit with the happy faces of children playing with their mini-me dolls on her Instagram page. She is undoubtedly an inspiration and a source of happiness for these kids, their parents, and the world at large, and an example that little things do change the world.
Please fill in your e-mail so we can share with you our top stories!