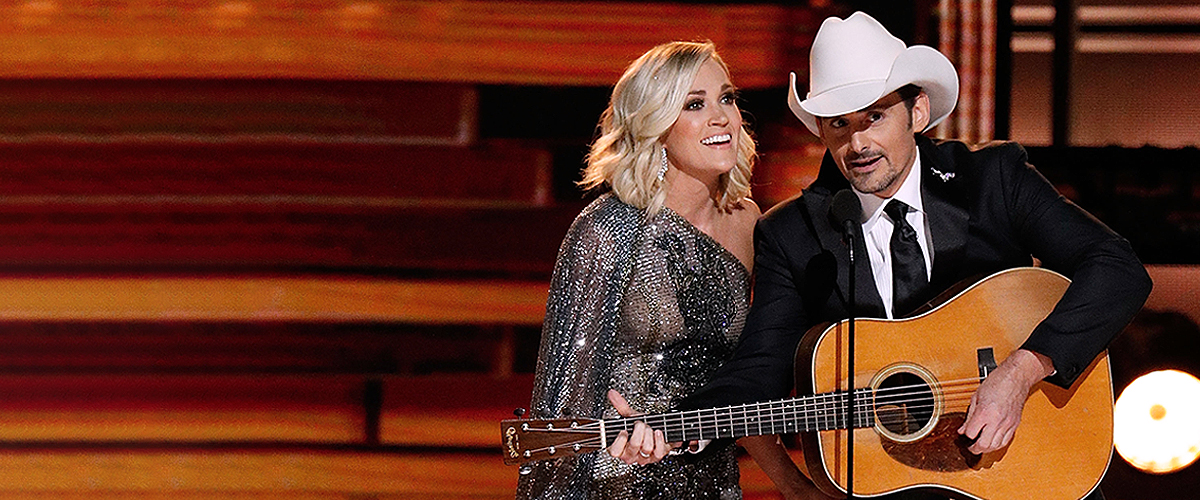 Getty Images
People's Mixed Reactions after Learning That Brad Paisley Won't Host the CMA Awards This Year

The Country Music Association, which gives awards and recognition to country music artists once a year, is getting mixed reactions from fans after announcing this year's hosts.
The event will be broadcasted live from the Bridgestone Arena in Nashville on November 13. In mid-August, the CMA announced a significant change compared to the last decade: Brad Paisley will not be the host.
THE MAJOR CHANGE
Carrie Underwood, who has been hosting the ceremony since 2008, will come back, but she'll host next to country music legends Reba McEntire and Dolly Parton.
In a statement, CMA Chief Executive Officer Sarah Trahern pointed out that having Carrie, Reba, and Dolly on stage was "an incredible honor." She added that the reason they made such a drastic change was to "celebrate the legacy of women within country music."
PEOPLE'S REACTION
While the intention behind CMA's decision is great, several people took to social media to share their disapproval, pointing out that they wished they would have stick to the traditional Carrie and Brad duo.
"I love Reba and Dolly - but Brad and Carrie together are a main reason to watch the show. They are great hosts," shared a Facebook user.
"I watched to see Brad and Carrie host. I absolutely love Reba and Dolly, but why couldn't Brad and Carrie still host and Reba and Dolly could be involved some other way?" wondered a second person.
"That's why I watch the show. They are so good together, they make me laugh and laughter is a good thing. Bring them back!!!!!" admitted another unpleased netizen.
Even though several people complained about not having Brad in this year's CMA awards, many others showed their support on Twitter, adding that Dolly and Reba's inclusion would be a game-changer.
"So excited for the #CMAawards this year! I know these Queens will put on a great show for us country music fans," admitted a person.
"Well I have no excuse to miss the CMA Awards this year. The three queens all on one stage," added a second fan.
"This CMA awards is going to be hot. Those three women Carrie, Reba and Dolly are going to have the house in blazes. Love Country Music!" pointed out another Twitter user.
BRAD PAISLEY'S REACTION
Although most people would feel disappointed after learning that they were replaced, Brad made clear through Twitter that he has no hard feelings on the CMA or the three hosts.
"As a fan of all 3 of these amazing women, I can't wait to watch," the country music singer shared.
Despite people's adverse reaction, Reba McEntire and Dolly Parton have more than enough credentials to host the CMA awards and any other ceremony.
REBA MCENTIRE'S CREDENTIALS
Reba, for instance, has been involved with the music industry since she was a high-school student as she used to sing on radio shows in Oklahoma and at rodeos.
When she was a sophomore at Southeastern Oklahoma State University, she performed the National Anthem at the National Rodeo in Oklahoma City, which skyrocketed her career.
Red Steagall, an actor and musician, was impressed by Reba's vocals and took her to Nashville, where she signed a contract with Mercury Records. Soon later, she started releasing albums.
Nowadays, Reba is referred to as the "Queen of Country" and is one of the best-selling artists of all time with more than 75 million records sold worldwide.
DOLLY PARTON CREDENTIALS
Dolly Parton, on the other hand, is another notable name in the country music industry. She has been active since 1956 not only singing but also writing for other artists, taking acting gigs, and writing books.
So far, Dolly has got nine Grammys, two nominations to the Oscars, ten CMA awards, and three AMAs. Apart from that, she has composed more than 3,000 songs and has been a member of the Country Music Hall of Fame since 1999.
As per her acting career, she has worked on films such as "9 to 5" and "The Best Little Whorehouse in Texas," and has had her own TV projects, including "Dolly," "Dolly Parton's Coat of Many Colors," and most recently, "Dolly Parton's Heartstrings."
With or without Brad, the Country Music Association award is one of the most anticipated events in the US as it is an excellent opportunity to see a myriad of music stars together.
Please fill in your e-mail so we can share with you our top stories!