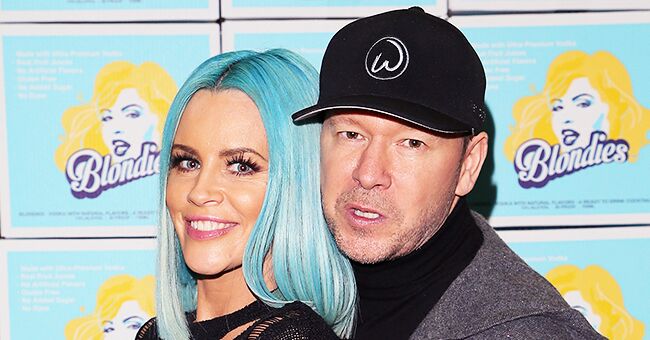 Getty Images
Jenny McCarthy Shares a Picture from Her Husband Donnie Wahlberg's 50th Birthday Party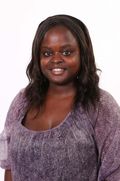 Jenny McCarthy throws an extravagant designer party for her husband, Donnie Wahlberg's 50th birthday.
Jenny McCarthy may have had to break the bank with a Versace themed party for Donnie Wahlberg's 50th birthday. The event was held on August 17, and hosted in Chicago. McCarthy shared pictures of the venue, thanking everyone that was involved.
Speaking to US Weekly McCarthy reveals that she spared no expense for her husband:
"I'll be paying this party off until I'm 90, truly. I'm going as far as I can without filing for bankruptcy. I wanted to give him, like, the greatest party ever because he's been the most wonderful human being — not only with me but with everyone he knows."
In a picture of her outfit from the night, McCarthy writes:
"Glam squad shout out."
McCarthy and Wahlberg had two outfit changes on the night and wore matching Versace styles. Looking like Donatella Versace, McCarthy wore her hair in a high pony and a version of what looked like Donatella's iconic black strapless bra. She finished the look with a Versace gold baroque printed floor length skirt and accessorized with gold jewellery.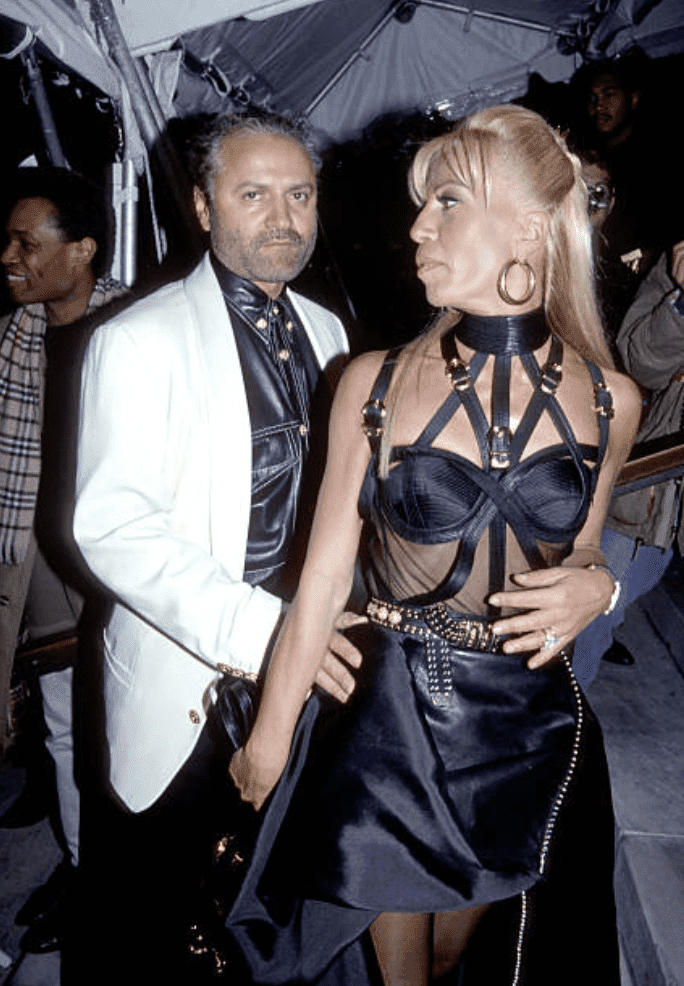 Gianni Versace and Donatella Versace at the Vogue Magazine 100th Anniversary in 1993, New York | Source: Getty Images
The party was attended by various stars, with the likes of Big Freedia, Joey McIntyre and Robin Thicke.
Walberg's family were also in attendance; his sister, Tracey Wahlberg and his son, Elijah Wahlberg. Sharing several pictures from the night, the proud father shared a special message on Instagram for his son, who celebrated his birthday on August 20:
"Happy 18th Birthday to the coolest young man I've ever known — @lijah_wahlberg! There aren't words to describe the levels of pride I feel for you — as a son, as a friend, a compassionate human being, as a student, a teacher, a creator, as a wise soul and as a cooler kid at 18 than I ever was. One of the greatest blessings in my life has been to bare witness to you becoming the wonderful young man that you are. I love you son. Now, let's hope we can get our @celtics to win #Banner18 in honor of your 18th year! Happy #BornDay@lijah_wahlberg."
According to the Boston Herald, Wahlberg was surprised with special guest performances, challenged to dance-offs by his friends. He blew out his candles on a cake created to look like stacks of designer bags.
After an amazing night, Wahlberg took to twitter to thank his family, fans and friends, saying:
"Too many bday wishes to possibly respond to all of them, half them or even a fraction of them. Just know, they mean the world to me and I am truly #thankful #FiftyIsTheNew30"
From the looks of all they fun he had, fifty is definitely the new thirty. Wahlberg celebrated his birthday just days before his son's, Elijah's 18th birthday. Considering how lavish this weekend was, it's safe to say that there was plenty of cake to go around.
Please fill in your e-mail so we can share with you our top stories!