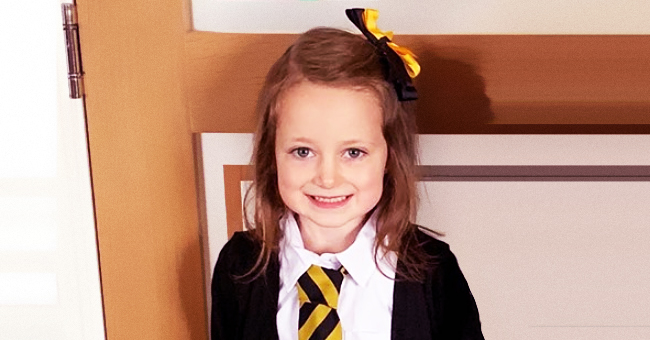 facebook.com/barrheadnews
Hilarious before and after Photos of 5-Year-Old Girl's 1st Day of School Photos Went Viral
A little Scottish girl had her first day back to school last week on Monday with some adorable pictures taken by her mother. However, she's since gone viral for how she looked after school!
A parent proudly captured her daughter's images on her first day back to school last week. Little Lucie, 5, from outside of Glasgow, Scotland, was all smiles as she posed for the camera in the morning.
Her cute little bow was neatly in place as was her uniform. However, her transformation after school warranted another picture with hilarious results!
Lucie's mother, Jillian Falconer, a nurse, noted how her daughter came out of school looking much worse than when she left earlier in the day. The little girl appeared to have transformed in the few hours she was away.
According to a picture shared by a newspaper, she came home with her tie undone, socks nearly down to her ankles, bow almost to the back of her head, and her hair was a tangled mess! The little girl looked exhausted too and wasn't smiling anymore!
Falconer said:
"She had her skirt round [sic] her ankles almost and a bow at the back of her hair. I think her clothes were too big slightly and she was pleased to see her friends."
"Pleased to see her friends" was an understatement as the girl looked like she had been in a fight! Her mother revealed that the "wee madame" had a "great day" with all her friends, but she was so tired that she went to bed earlier than usual.
Falconer tried to find out what Lucie did that altered her image so much but all she got was the usual reply all children give, "Oh, nothing much." Lucie's mother has four children including her.
Her mother revealed how she was "the smallest" of all her siblings. Falconer added: "But she is normally very shy. Except when she's around her brothers."
The girl's father asked Falconer how her day had gone and the mother sent the disheveled photo of Lucie. The mother of four revealed she shared the image with her partner "to show obviously she had an eventful day."
The parent revealed how the viral photo had affected her daughter. Falconer said: "She went to sit in the front seat with her car seat," and "When her older sister said she sits in the front because she is the oldest, Lucie responded, 'No, I'm a celebrity now.'"
In Texas, a mother's pictures have gone viral after she shared a photo of her young son in an oversized T-shirt. On the first day of school for the next 12 years, the little boy will mark it with a painted handprint.
Last Sunday, Carina Cansino took to Twitter to share an adorable shot of her son Gus' first day of kindergarten. In the image, her son could be seen wearing the large adult-sized T-shirt that nearly reached to his wrists and ankles.
The t-shirt is written "Class of 2032" on the front and there's space for his handprint for every first day of school until he graduates from twelfth grade.
Please fill in your e-mail so we can share with you our top stories!